Credit Suisse Shutters Funds in Asset Management Review
(Bloomberg) -- Credit Suisse Group AG is closing down funds and laying off employees at its alternative asset management business after several of the strategies struggled to perform in the volatility caused by the Covid-19 pandemic.
The bank's actions include shuttering a quantitative fund and taking a 24 million Swiss franc ($26 million) charge on seed capital in a U.S. real estate fund in the third quarter, Chief Financial Officer David Mathers said in an interview, declining to name the funds or detail the extent of the layoffs.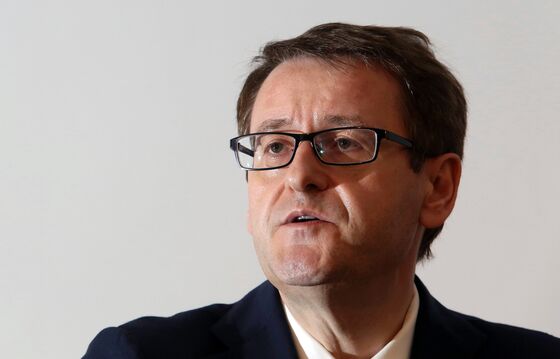 Asset managers are facing challenging market conditions amid the pandemic, with hundreds shuttering or in the process of closing down, including AJO Partners, a $10 billion quantitative fund manager, and macro hedge fund firm Tse Capital Management. Credit Suisse earlier this month said that Aventicum Capital Management, a joint venture with the Qatar Investment Authority, will close two groups of funds and return capital to investors.
"We have seen some of these funds struggling in this environment -- their strategies have not succeeded in the volatility that has happened with Covid-19," Mathers said Thursday. "The credit business is doing fine, it's some of the smaller ones."
Credit Suisse is grappling with issues at asset management, led by Eric Varvel, after years of steadily rising performance and a 67% increase in profit in the four years through 2019. During that time, it became a pillar of the bank's strategy under former Chief Executive Officer Tidjane Thiam, who pivoted the bank toward managing money for the rich and away from risky trading.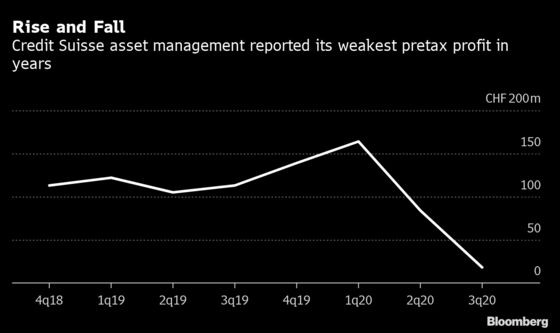 Thomas Gottstein, Thiam's successor as CEO, said last month that the bank is planning a strategic review of asset management over the next 12 months. On Thursday, he ruled out a sale or merger of the unit for the time being.
The bank expects further restructuring costs as well as potential mark-downs, depending on performance, as it continues to review its portfolio of alternative investments, the Swiss lender said in a quarterly report. Investment losses in real estate were partially offset by the recovery of losses in credit funds, it said.
Credit Suisse's asset management operation is split between a more traditional business with long equity and fixed-income strategies sold largely to its private banking clients, and an alternative asset management business in the U.S. consisting of wholly owned hedge funds, a large credit business and a number of smaller funds and external investments.
"It really is a tale of two cities," Mathers said. "You have a very successful traditional business, you have a less successful alternative business which largely sells to third parties as opposed to the wealth management businesses."