Credit Suisse Uncertain Outlook Clouds Investment Bank Gains
(Bloomberg) -- Credit Suisse Group AG warned it risks missing a key profit target next year because of the unpredictable impact of the pandemic, adding to investor uncertainty after a series of financial hits.
Attaining a return on tangible equity -- a key measure of profitability -- of 10% to 12% next year will depend in part on whether provisions for bad loans return to a pre-covid level, the Zurich-based lender said in an investor day presentation on Tuesday. It said it plans to start buybacks next month and is seeing a strong end to 2020 in investment banking.
Revenue at the investment bank is up in the "mid-teens" compared with last year's fourth quarter, Chief Financial Officer David Mathers said on a conference call, joining Wall Street peers in signaling gains at the securities unit. In the bank's key wealth management unit, higher transactional earnings are offsetting currency headwinds and negative interest rates.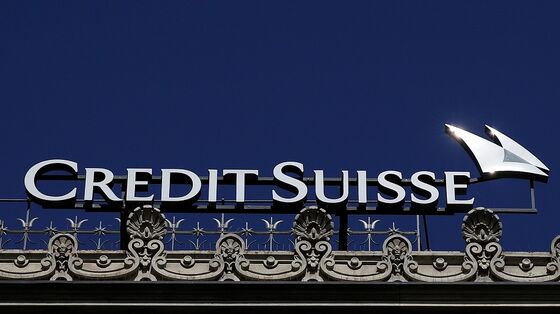 Chief Executive Officer Thomas Gottstein is seeking to turn the corner after a series of setbacks overshadowed his first year in office, from loan losses to questionable dealings for a large client. While he simplified the organizational setup, including at the investment bank, and started a review of the asset management business, he's been unable to stop a constant flow of bad news. An impairment on hedge fund York Capital and potentially surging legal provisions may push the bank to a fourth-quarter loss.
Credit Suisse didn't say whether it expects to make a profit in the quarter or how its trading business performed so far, after it trailed peers in the prior quarter. The bank is targeting a lower CET1 ratio -- a key measure of capital strength -- in the first half of next year to reflect the York writedown and an increase in legal provisions related to mortgage-backed securities in the U.S.
While the bank's profit target next year "is unlikely to be achieved, we do still think this is feasible in the medium-term," Citigroup Inc. analysts including Andrew Coombs wrote in a note to investors on Tuesday. "Revenue momentum stalled" last quarter and the final three months "may be similar," it said.
To reach that goal, Gottstein on Tuesday pledged to boost pre-tax income in wealth management by at least 1 billion francs ($1.1 billion) over the next years.
Credit Suisse rose 0.2% as of 2:17p.m. in Zurich trading. The stock is down about 14% this year, compared with a small gain for UBS Group AG, which has a similar strategy.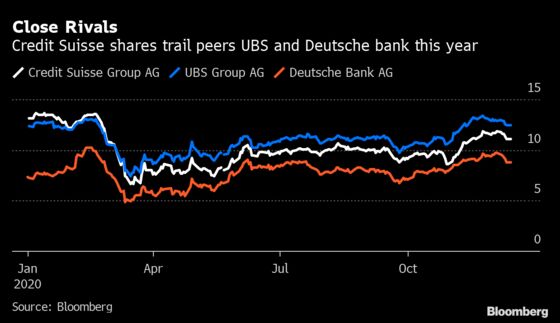 Since Gottstein combined the investment banking and trading activities in one unit, the business has shown mixed results, with advisory doing well in the third quarter, while fixed income trading -- the largest revenue contributor -- couldn't keep up with Wall Street.
The heads of the two largest U.S. lenders, JPMorgan Chase & Co. and Bank of America Corp., told investors last week that their investment-banking and trading divisions would notch a strong performance in the fourth quarter as economic activity stayed fairly resilient. At Deutsche Bank AG, fixed income trading grew 10% in October and 23% in November.
Citigroup expects its fixed-income and equity trading revenue to climb by a percentage in the mid-teens this quarter, but there are signs markets are beginning to stabilize, Chief Financial Officer Mark Mason said at an investor conference on Dec. 9.
Credit Suisse said it plans to grow wealth management-related pretax income to between 5 billion francs and 5.5 billion francs in 2023 from a base of 4 billion francs today, by boosting lending, new assets and deepening collaboration with the investment bank. That represents a compound annual growth rate of about 10%.
Other Credit Suisse investor day targets at a glance:

Adjusted operating expenses of 16.2 billion francs to 16.5 billion francs for 2021
CET1 ratio of at least 12.5% in the first half of 2021
Confirmed a target of 5% dividend growth per year, as wells as buybacks of 1 billion francs to 1.5 billion francs for 2021
Investment bank return on regulatory capital of 10% to 15% in the medium term
To get there, the bank is planning investments of between 100 million francs and 150 million francs in its wealth business, for strategic hires and to grow the asset management business. It plans to spend another 50 million Swiss francs on the investment bank to help expand sales of financing and structured credit products to wealth clients.
In asset management, a business that's typically a source of stable income, the pandemic has exposed some weaknesses, as the bank suffered a number of fund implosions this year as well as a scandal involving one of its largest clients, SoftBank Group Corp. Last month, Credit Suisse announced a $450 million impairment on its stake in York Capital Management.
That and potentially surging legal provisions related to a long-standing legal case surrounding residential mortgage-backed securities in the U.S. could push it to a fourth-quarter loss, Andreas Venditti, an analyst at Vontobel, has estimated.
Credit Suisse said it expects a significant turnaround at the asset management unit next year, as it expands investments in alternatives and private markets and sells more of its products to wealth management clients.