Credit Suisse Greensill Fund Holders Face More Losses
(Bloomberg) -- Investors in the Credit Suisse Group AG funds that invested in assets sourced by Greensill Capital may face a further $190 million loss on their holdings.
A discount of roughly 7% will be applied to notes on a book of around $2.8 billion loans held in the funds, adding to potential losses stemming from troubled borrowers such as SoftBank Group Corp.-backed Katerra, U.S. coal miner Bluestone Resources and Sanjeev Gupta's GFG Alliance, according to a statement from the Swiss lender.
The bank didn't identify the creditors that may not fully repay the loans. It hired an advisory firm to assess the creditworthiness of the underlying borrowers, according to the statement.
Greensill filed for insolvency in March as it couldn't roll over insurance coverage for many of the products it sourced and packaged. Credit Suisse, citing valuation concerns, eventually moved to wind down a $10 billion group of supply chain finance funds that purchased those loans.
The bank has since returned $4.8 billion to investors as a large portion of the funds were held in short-dated U.S. Treasury bonds, according to recent fund reports. Valuation on the $2.3 billion notes linked to Katerra, Bluestone and GFG remain uncertain, Credit Suisse said in the statement.
Many of the borrowers in the funds were investment grade firms like Ford Motor Co. and Henkel AG, but there were also loans to riskier companies.
While the money pools were marketed to investors as made up of short-term debt secured on invoices, part of the loans were linked to mere possible future revenues. The assets were considered so safe that Credit Suisse gave the largest fund its lowest rating for risk.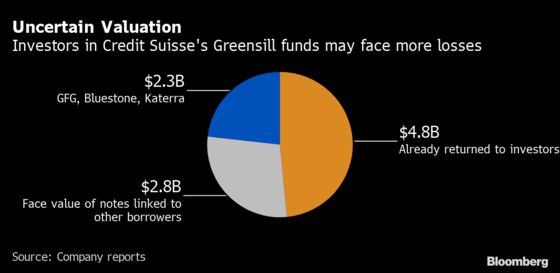 The size of the final payout for investors will depend on whether insurance, which covered Greensill against the default of its borrowers, will actually cover the debts.
Greensill's Insurance Policies Questioned by Tokio Marine
Insurer Tokio Marine Holdings Inc. has questioned the validity of the contracts signed off by an underwriter at its Australian subsidiary. The underwriter was sacked for breaching risk limits on the Greensill loans.