Credit Suisse Crisis Overhang Sends Bond Funding Costs Higher
(Bloomberg) -- Credit Suisse Group AG is still feeling the effects in bond markets of two major missteps this year.
The lender on Monday issued its first euro and sterling notes since the collapse of Greensill Capital and Archegos Capital Management. While the sales left demand for the bank's debt in no doubt -- orders passed a combined 4.7 billion euros-equivalent ($5.7 billion) -- they also highlighted increases in the bank's funding costs since March.
Credit analysts and investors said that some of the bank's senior debt is carrying a premium of at least 10 basis points more than it would have without the twin crises. The cost of insuring its bonds against default also remains elevated versus competitor UBS Group AG.
"It reflects the weaker credit view, with potential compensation of investors still to come as well as serious questions around risk management," said Bjorn Norrman, an investment manager at Aegon Asset Management.
Credit Suisse declined to comment on its recent sales. The 1.5 billion-euro and 750 million-pound notes on Monday followed a $3.25 billion 11-year note last week.
The bank emerged as the biggest loser among global investment banks as family office Archegos imploded in March, wiping out a year of profit. It's since taken steps to reassure investors and overhaul the business, including a $2 billion capital raise, but has struggled to contain a string of senior banker defections.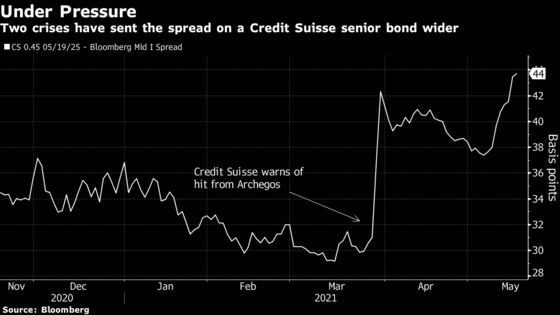 An investigation by the Swiss financial regulator into the bank's risk management is "likely to hang over" the bank's debt in the short term, said Tom Kinmonth, an ABN Amro credit analyst. He pointed to Danske Bank AS, the subject of multiple investigations into money laundering in both the U.S. and Europe.
"In these type of cases, for example like at Danske Bank, it takes time for a bank to settle the cases, to rebuild its reputation and to re-convince investors of its new governance structure," Kinmonth said.
Still, he retains a positive view of the bank and thinks its credit spreads "will make up this lost ground over this year." Some of the bank's dollar bonds, including a $2 billion 1.305% senior note sold in January, have already retraced some of their widening since late March.