Credit Suisse CEO Thiam Ousted in Board's Damage-Control Bid
(Bloomberg) -- Credit Suisse Group AG ousted Chief Executive Officer Tidjane Thiam, a move that the bank's chairman called an attempt to fix its reputation after a damaging spying scandal.
"We saw a deterioration in terms of trust, reputation and credibility among all our stakeholders," Chairman Urs Rohner said Friday after he rejected calls from major U.S. and U.K. shareholders to back Thiam. He said the bank's reputation was particularly damaged in Switzerland, which accounts for about 40% of the bank's pretax income.
Rohner is turning to Thomas Gottstein, a two-decade Credit Suisse veteran who heads the Swiss business, to restore investor confidence after the shock departure. He's the first Swiss-born CEO of the bank in almost two decades and takes on the dual challenge of putting a stop to the infighting and boosting a share price that lost almost half its value during Thiam's tenure.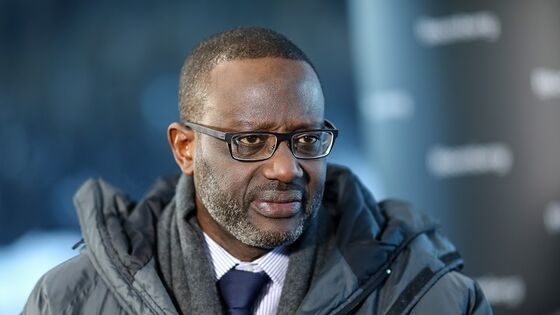 Thiam's exit marks the culmination of a conflict with Rohner that escalated over the CEO's dispute with former international wealth management head Iqbal Khan. After Khan said he was quitting to join cross-town rival UBS Group AG, one of the Thiam's top deputies hired detectives to follow him -- a tactic that sparked an international scandal when it became public.
While Thiam, 57, was absolved of responsibility in an internal probe and the board blamed a close lieutenant, the bank has struggled to contain the crisis ever since. Further spying incidents have come to light, unsettling Swiss regulators who have launched their own inquiry into the culture at the top of the firm.
The second incident "made the situation worse," Rohner said. It became clear "that there was more of a pattern."
Top shareholders including Harris Associates, Silchester International Investors and Eminence Capital had said Rohner should be the one to go if he couldn't back Thiam. Rohner's backers saw the high-profile demands as an unseemly gambit, according to a person familiar with the matter. Meanwhile, the chairman lined up support behind the scenes from other shareholders for the board, including Qatar's sovereign wealth fund, the person said.
The chairman's focus on the damage done in Credit Suisse's home market -- "among all of our stakeholders, clients, employees, regulators" -- contrasts with complaints from non-Swiss investors, notably David Herro, deputy chairman of Harris Associates, who said concerns were limited to the Zurich financial district.
Herro stood by his criticism of Rohner, calling on him to quit. "Our worry is that you have this new CEO who is capable and talented but above him, a chairman who is less than capable and talented and a board who seems to just mimic, just follows blindly whatever he says," Herro told Bloomberg TV.
"We agree to disagree," Rohner said.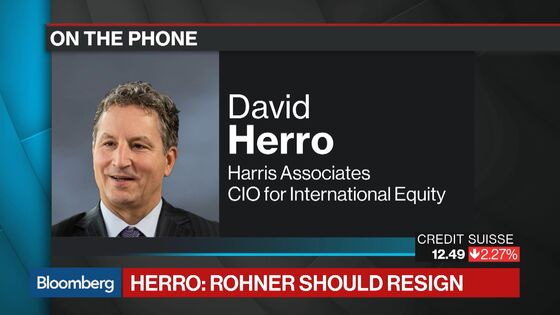 While Credit Suisse's profit has increased for three consecutive years under Thiam, who last year exited a painful three-year restructuring that included tapping shareholders for billions of francs, its stock has fallen more than UBS and the Stoxx 600 Banks Index. The shares pared losses later in the day after initially declining 5.1% and were trading little changed at 12.76 francs at 4:53 p.m. in Zurich.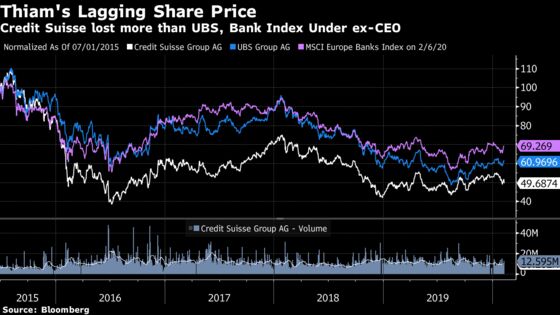 "Tidjane has made an enormous contribution to Credit Suisse since he joined us in 2015," Rohner said in the statement. "It is to his credit that Credit Suisse is standing on a very solid foundation and has returned successfully to profit."
For Thiam, who was born in Ivory Coast and previously held top roles at Aviva Plc and Prudential Plc before Rohner hired him in 2015, the departure blemishes a record that includes a pivot away from volatile trading and toward the more stable business of catering to affluent clients.
Thiam took over at Credit Suisse in mid-2015 and quickly outlined a plan to slash costs, boost profitability and increase his firm's financial strength. A former politician and insurance executive, he had no direct experience in investment banking, a business that became one of his biggest headaches. He was blindsided by losses at the trading unit in 2016, pushing him to accelerate cost cuts.
The latest troubles started in September when Swiss media reported Khan, who had left for crosstown rival UBS Group AG, confronted his pursuers in downtown Zurich. Embarrassing disclosures followed, including accounts of the personal feud between Thiam and Khan and the suicide of a contractor, rattling business circles in a city that normally enjoys a reputation for quiet professionalism.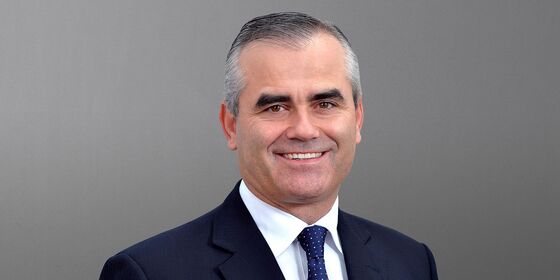 An internal probe concluded Thiam didn't know about the spying, and that Chief Operating Officer Pierre-Olivier Bouee was responsible. Bouee was fired late last year. It later came out that human resources chief Peter Goerke was also followed, which the bank also blamed on Bouee.
"I had no knowledge of the observation of two former colleagues," Thiam said in the Friday statement. "It undoubtedly disturbed Credit Suisse and caused anxiety and hurt. I regret that this happened and it should never have taken place."
A third spying case, involving a former Credit Suisse employee in the U.S., was also probed and rejected by the bank. However, lawyers for Credit Suisse were still looking into the matter as recently as last week, Bloomberg reported on Tuesday.
Thiam's resignation after prominent overseas shareholders had backed him marks a victory for the Swiss establishment. A former lawyer who has been chairman of Credit Suisse for a decade, Rohner's leadership "during this turbulent time" was praised by lead independent director Severin Schwan, CEO of Swiss pharmaceuticals company Roche Holding AG.
Gottstein is CEO of Credit Suisse Switzerland and has been in the banking industry for 30 years, including more than 20 at Credit Suisse. His experience includes 13 years in investment banking in London, as well as in private banking. The unit, known as the Swiss Universal Bank, is a sort of miniature Credit Suisse focused on the domestic market. It's the biggest contributor to pretax profit and includes a private banking arm as well as investment banking.
The new CEO also sits on the board the regulator Finma. It's unclear what impact the change in leadership at Credit Suisse will have on its investigation into the scandal. Finma said in December that it had appointed an independent auditor to investigate the case and that such probes typically take several months. No one at the regulator was immediately available on Friday morning to comment on the news.
"Gottstein is very Swiss, it's a big contrast," said Andreas Venditti, an analyst at Vontobel. Still, he "has a background in investment banking -- he doesn't know only Switzerland. I wouldn't say that this is a retreat from a global ambition."