The Cracks in Credit Markets Are Growing Deeper
(Bloomberg) -- The cracks in the credit market are widening as investors face their fears about the mountains of debt weighing on corporate America.
If pressure began building last month, things blew up last week: High-grade bond spreads widened the most in nearly two years, premiums paid for junk bonds jumped the most in almost two years, and the prices of leveraged loans sank to the lowest since 2016. As a result, companies selling bonds have paid a price.
"It's going to be a pretty sloppy market through year-end," said Scott Kimball, a portfolio manager at BMO Global Asset Management in Miami. "There's no data point we think will change directions between now and the end of the year."
General Electric Co. woes added to angst in the market. Investors are concerned the company's financial woes and massive debt pile may be the harbingers of broader problems in the corporate credit market amid rising rates and possible slower growth. Plunging oil prices have also driven concerns.
Investment-grade bonds are on track for their worst year in terms of total returns since 2008 as the Federal Reserve continues to raise rates.
The Bloomberg Barclays U.S. high-grade bond index showed spreads widened the most since February 2016. Trading volumes were up and new bond sales struggled. The recent widening began in early October, shortly after Treasury yields surged.
A big bond issuance from DowDuPont Inc. last week failed to improve much from initial price thoughts, considered a floor for pricing. On Monday, Takeda Pharmaceutical Co.'s sale priced poorly when compared with similar deals.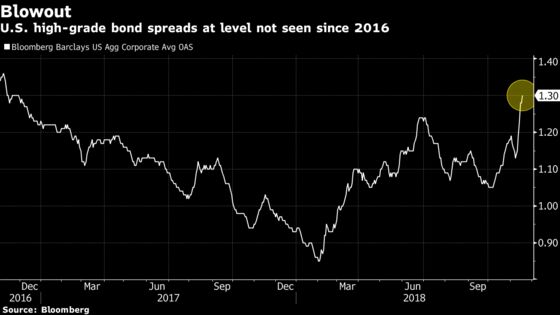 U.S. junk bond spreads widened the most since December 2016 and yields rose to a 30-month high this month. The lowest-rated high-yield debt saw the longest streak of spread widening in two years.
The steep fall in oil prices knocked energy bonds, which account for about 15 percent of the high-yield index. The risk of billions of dollars in high-grade debt -- including GE and Pacific Gas & Electric Co. -- becoming junk-rated is also weighing on investors.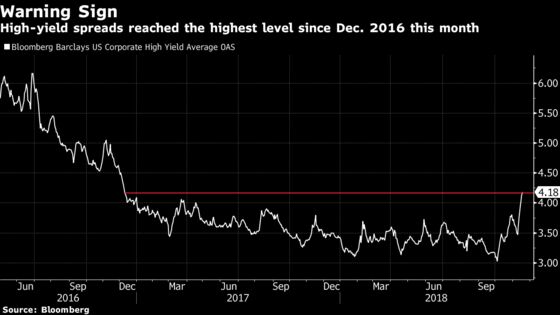 The CDX investment-grade index, a measure of the cost of default protection on the best-rated corporate bonds, rose to the highest since November 2016 after its biggest move since March last week.
High-grade bond funds saw inflows fall more than 50 percent last week to $755 million from $1.85 billion the week prior, according to Lipper. The IShares IBoxx Investment Grade Corporate Bond ETF, ticker LQD, is down roughly 8 percent year-to-date.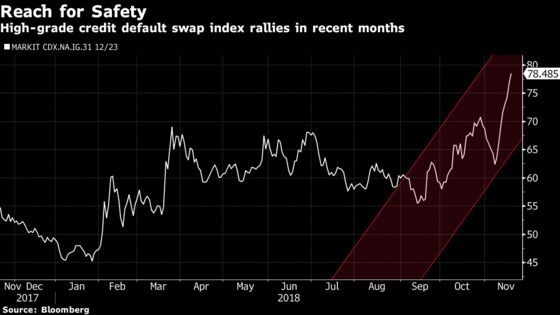 The U.S. leveraged loan market's benchmark price index dropped to a fresh two-year low and borrowers faced a frosty reception from investors.
The percentage of deals that had to increase pricing spiked this month to the highest of the year, according to data compiled by Bloomberg. LifePoint Health Inc. made a slew of investor-friendly changes that strengthened covenants, as did Space Exploration Technologies Corp, or SpaceX, which cut the size of its loan to $250 million from a target of $750 million.
Leveraged loan returns are still outpacing the rest of the credit market at 3.8 percent for the year on the benchmark S&P/LSTA index. This compares to a peak of 4.3 percent in late October.