Credit Agricole's Trading Results Improve 
Credit Agricole SA posted bigger-than-expected declines in profit and revenue in the first quarter as weakness at its key Italian business overshadowed resilient trading income.
Underlying revenue in Italy, Credit Agricole's second-biggest retail market, declined 3.9% as volatile markets weighed on fees. Chief Executive Officer Philippe Brassac has targeted consumer banking in the country as an area of growth as he reorganized the bank's structure over the past four years and sold less strategic holdings.
Shares of the lender fell 3 percent at 10:02 a.m. in Paris as the contraction in Italy offset growth in the bank's home market of France, as well as a 1.7 percent gain in capital markets revenue that was better than trading results at most peers. The stock earlier in the day fell as much as 3.9 percent.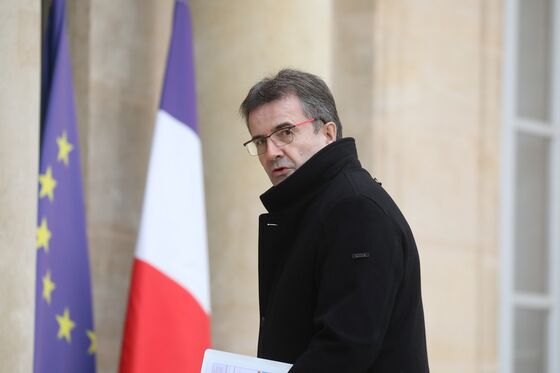 Brassac is finalizing a new set of targets for this summer, after achieving his main financial goals for this year ahead of schedule. That's a sharp contrast with rivals BNP Paribas SA and Societe Generale that dropped key targets recently and are reviewing or exiting some investment-banking activities. Credit Agricole is less dependent than crosstown rivals on volatile trading activities that soak up capital and benefits from huge retail deposits.
The bank -- like many peers -- is struggling to boost revenue in an era of sustained low interest rates. It's also seeking to improve the cost base of its corporate and investment bank "at its own rhythm, patiently, without big violent restructuring plan," Deputy CEO Xavier Musca told journalists at a press conference.
Here are some highlights from Credit Agricole's first-quarter results:

Net income fell 11% to 763 million euros, missing analyst estimates
Revenue fell 1.1% to 4.86 billion euros, below estimates
Common equity Tier 1 capital ratio 11.5% at end-March, stable from end-December
While Credit Agricole will remain "attentive" to banking consolidation developments that might take place in Europe, Brassac downplayed the possibility of any big move from his bank, echoing similar comments by UniCredit CEO Jean Pierre Mustier earlier this week. Brassac said cross-border acquisitions are "unbelievably difficult and unbelievably complex."
Credit Agricole remains one of the few European banks seeking to grow through selective deal-making. The French bank in April agreed to take over Banco Santander SA's main custody and asset-servicing activities in an attempt to scale up in a typically low-margin business dominated by U.S. firms. Deputy CEO Yves Perrier, who oversees Credit Agricole's savings businesses and runs Amundi SA, said last month that the asset manager remains a "natural consolidator in Europe" and may look at M&A opportunities if they arise.
Credit Agricole's corporate and investment bank is climbing four steps to No. 3 in the ranking for euro bond issues this year, trailing only BNP Paribas and JPMorgan & Chase Co., according to data compiled by Bloomberg. Sales of new debt are an important metric for secondary markets as well because they provide more opportunities for fixed-income traders.