Credit Agricole's Jumbo Financings Boost Investment Bank
(Bloomberg) -- Credit Agricole SA's investment bank and retail business are both benefiting from the thirst for credit.
Financing revenue jumped 17 percent in the second quarter after the bank provided advice and arranged debt financing on large deals including Altran Technologies SA's takeover of Aricent Inc., helping the investment bank beat estimates. The bank's French LCL retail business also did better than expected after seeing loan growth jump. The stock rose 2.4 percent to 12.24 euros at 12:44 p.m. in Paris.
Chief Executive Officer Philippe Brassac is gearing the bank toward higher profitability and revenue while seeking to bring down costs after cleaning up the balance sheet. The lender is also on the acquisition trail: its Amundi SA fund-management arm acquired Pioneer Investments last year to expand in markets including Germany and the U.S., while the bank is increasing its Italian customer base by 20 percent with the acquisition of three local banks.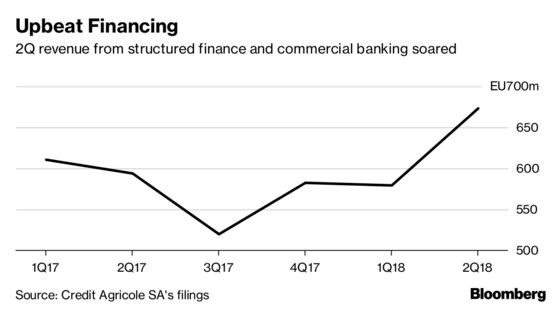 "They're showing revenue strength in their core retail and corporate-banking businesses," said Francois Chaulet, who helps manage more than 500 million euros ($580 million) at Montsegur Finance in Paris and owns Credit Agricole shares. "They've made some big deals, and that was a boost for the investment bank."
Credit Agricole was an underwriter on Altran's 750 million-euro capital increase earlier this year as part of the company's purchase of Aricent, and also worked on some of the pre-financing for the deal.
Last year, the French lender earned more than half a billion euros of profit from Italy, its second-biggest market. It's now selling Italian non-performing loans bought from other institutions a decade or more ago, people with knowledge of the matter said earlier this year. The bank released about 8 million euros of provisions in the second quarter related to its Italian bank acquisitions and has brought down the cost-to-income ratio of the three banks that it acquired.
Investment-banking head Jean-Yves Hocher is stepping down at the end of the year to be replaced by Jacques Ripoll, who spent a larger part of his career at SocGen before heading up Banco Santander SA's global banking and markets division for more than three years. He is set to join Credit Agricole next month and take up his new role when Hocher retires at the end of the year.
Net income and revenue at the bank both beat analyst estimates in the second quarter. Shares of Credit Agricole's Amundi business soared on Thursday after the asset manager rebounded from outflows a year earlier to post about 2.6 billion euros of net inflows in the second quarter.
Credit Agricole is considering buying as much as 10 percent of Italian lender Credito Valtellinese SpA as it seeks to boost investments in the euro region's third-largest economy and is also said to be interested in Societe Generale's Polish unit.
French rival Societe Generale, a global leader in equity derivatives, also posted better than expected earnings at its securities division as income from financing deals climbed and trading topped estimates. Financing and advisory revenue rose about 5 percent to the highest in more than two years in the second quarter.
Other highlights from the earnings include:


Net income 1.44 billion euros, beating 1.02 billion-euro estimate
Revenue 5.17 billion euros, beating 4.88 billion-euro estimate
French retail unit revenue of 875 million euros beat 847 million-euro estimate
Investment bank profit of 578 million euros above 389 million-euro estimate