Crash in Shimao Bonds Stokes Contagion Fear, Bailout Speculation
(Bloomberg) -- Its balance sheet is less than a third the size of China Evergrande Group's and it doesn't even crack the top 10 list of Chinese property companies by sales.
But for many investors, Shimao Group Holdings Ltd. has suddenly become the single biggest worry in a Chinese real estate sector with no shortage of things to worry about.
Long considered one of the industry's healthier players, Shimao Group had until recently appeared largely immune to the credit-market turmoil that led to defaults this month by junk-rated rivals including Evergrande and Kaisa Group Holdings Ltd. That view has changed dramatically over the past week as unconfirmed speculation of payment difficulties at Shimao Group sent the company's bonds tumbling from nearly 90 cents on the dollar to 59 cents as of Wednesday.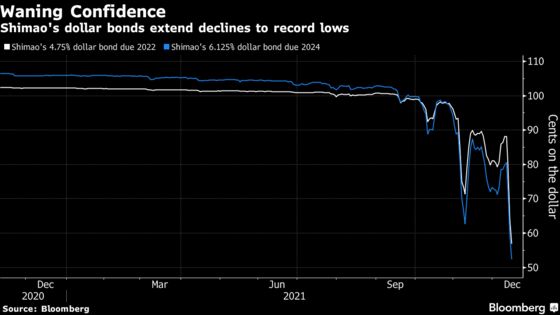 The crash stands out because bonds of higher-rated developers have mostly weathered the selloff that sent the yield on a gauge of Chinese junk debt soaring above 20%. Shimao Group, founded by billionaire Hui Wing Mau, is still rated investment grade by Fitch Ratings, though S&P Global Ratings lowered its rating of the firm to junk last month. Many of Shimao Group's bonds are held by investors who have much lower tolerance for defaults than those who dabble in names like Evergrande.
"A collapse of Shimao will be far worse than Evergrande in our opinion," said Dhiraj Bajaj, head of Asia credit at Lombard Odier. "Evergrande was known to be a highly leveraged entity, but if high quality firms across hospitality, services and development focused on high quality markets such as Shanghai can't survive this crisis, then global confidence will be permanently lost."
The worry is that a payment failure by Shimao Group could cause a much broader reassessment of risk in the Chinese property sector, driving up funding costs for higher-rated developers and spooking homebuyers who had flocked to the perceived safety of these companies in recent months given the crisis at Evergrande.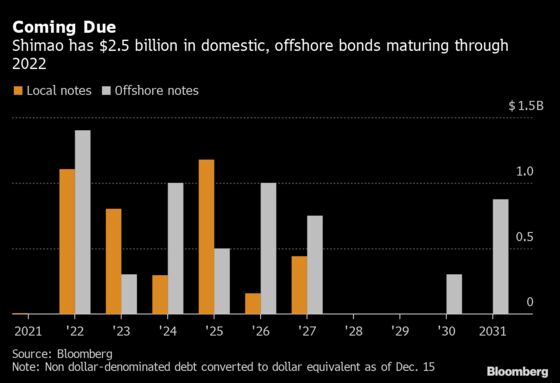 China may be forced to further ease curbs on the real estate sector to prevent developers like Shimao Group from running into financial trouble and limit the risk of social instability, Bloomberg Intelligence analysts Andrew Chan and Daniel Fan wrote in a note on Wednesday.
"Should this weak sentiment cross over to IG-rated private developers, sector sales could collapse, triggering more defaults," the analysts wrote. "The state may therefore need to increase its efforts to turn around sentiment."
Shimao Group's note due 2022 fell about 5 cents on the dollar to 59 cents on Wednesday, after tumbling 16 cents a day earlier. Its bond due 2024 dropped 5.9 cents to 53.7 cents, according to Bloomberg-compiled prices. The developer's shares fell 3.7%, taking a four-day rout to a record 36%.
In another sign of growing stress, Guangzhou R&F Properties Co. said on Wednesday that a unit is seeking to delay payment of a $725 million dollar note maturing in January by six months. It also offered to repurchase some of the bond at a 17% discount to face value, according to a Singapore stock exchange filing. If the proposals aren't backed, the builder said it might not be able to fully repay the note.
Shimao Group's mainland unit said late Tuesday that its business activities are normal and nothing has happened that would affect its ability to repay yuan bonds. The parent company also defended a recent transaction between two units that had prompted the Shanghai stock exchange to ask whether the deal would hurt smaller shareholders. Shimao Group has blamed the selloff in its bonds and shares this week on unspecified "rumors."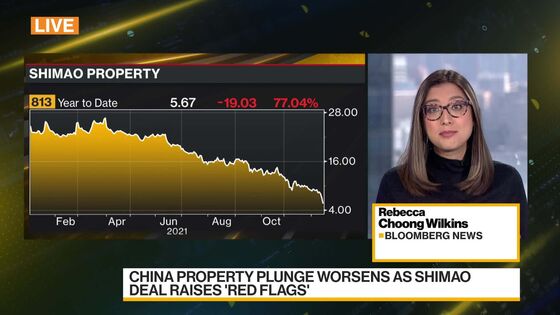 The Monday announcement that Shimao's services unit had agreed to buy another unit of Shimao Group for 1.65 billion yuan ($259 million) was taken as a sign by some analysts that the developer is shifting money from stronger to weaker parts of the business. 
The acquisition "not only implies tight liquidity conditions for Shimao, but is also a corporate governance red flag," JPMorgan Chase & Co. analysts wrote as they downgraded shares of both Shimao Group and its services unit.
The developer and its subsidiaries need to refinance or repay $2.5 billion in bond maturities through 2022. That includes the 30 million yuan repayment on a 4.5% local bond due Dec. 17 and a 2 billion yuan note due January, according to data compiled by Bloomberg. Shimao Group has about $10.1 billion in outstanding local and offshore bonds.