Covid Surge in Oregon Shows U.S. Fight Against Pandemic Not Over
(Bloomberg) -- A Covid-19 surge in Oregon is sweeping through a partially vaccinated population, with steep rises in case rates among the young -- an indication that the U.S. may struggle with distinct outbreaks for months to come.
The state reported 888 confirmed and presumed cases on Tuesday and a 6.5% test positivity rate, bringing the seven-day average to 832, according to the Oregon Health Authority.
Those levels are still below peaks reached this winter, but Governor Kate Brown has elevated more than a dozen counties to the most extreme risk category, effective Friday, shuttering indoor dining and warning of strain to the state's hospitals.
The spike is the latest indication that the pandemic is far from over. A surge in Michigan and an all-out crisis in India is reminding health officials how delicate the path to recovery can be. Variants, virus fatigue, vaccine hesitancy and pressure to reopen risk eroding progress in the U.S.
"What's happening with the virus at any moment depends on the virus and it depends on the rest of us," said Joshua Sharfstein, vice dean for Public Health Practice and Community Engagement at the Johns Hopkins Bloomberg School of Public Health.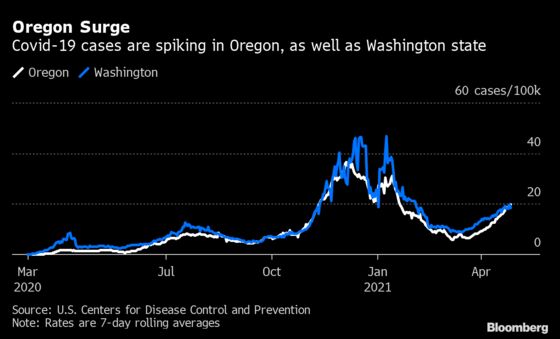 Oregon's latest spike is infecting younger residents, while cases among those age 70 and older are relatively stable. People age 29 and younger made up 37.2% of all cases in Oregon, according to its health authority.
"The surge in cases and hospitalizations is the result of the emergence of new and more transmissible variants," the authority said in a statement. "It is hoped that moving these counties into extreme risk will help tamp down spread of the virus, especially as more Oregonians get vaccinated."
Sharfstein said Oregon's surge is likely due to the virus changing and people becoming more complacent. The vaccination campaign in the state is plateauing: Some pockets are grappling with surpluses of doses, particularly in more politically conservative rural areas. Even before Covid-19, vaccine hesitancy in the state was among the highest in the nation.
Statewide, 43% of Oregonians have received at least one dose, and more than a quarter of the population is fully inoculated, putting the state roughly in line with the national average, according to the Bloomberg Vaccine Tracker.
"I think the issue is that we have this very fragmented response system to Covid," said Javier Nieto, a physician-epidemiologist at Oregon State University in Corvallis. "You have a fragmented response where one county is doing one thing, another county -- something else."
The newest round of restrictions imposed by Brown will remain in place for a maximum of three weeks.
The state's restaurant association said the ban on indoor dining in high-risk counties unfairly targets its members when current outbreaks have been tied to education institutions, health-care settings, private social gatherings and manufacturing facilities.
"Oregon's plan and ongoing risk categories continue to target and penalize restaurants, gyms and fitness centers as the predominant set of restrictions deemed necessary to mitigate virus spread," Jason Brandt, president and chief executive of the Oregon Restaurant and Lodging Association, said in a statement.
Anthony Smith, Oregon state director for the National Federation of Independent Business, said the governor's restrictions unfairly imply that businesses are acting somewhat irresponsibly.
"Our members have done everything asked of them to fight the virus. And when we start seeing an uptick, the one play in the playbook is to shut down restaurants and gyms and other businesses that the state thinks can't operate safely," Smith said.