Covid Cases Fall in 46 States, But Biden Warns of More Death
(Bloomberg) -- Covid-19 cases are declining in 46 states, reducing pressure on long-burdened hospitals. But the U.S. hasn't yet seen the full fallout from the earlier infections, and deaths are likely to keep mounting at a brisk pace.
In 42 of those states, the seven-day case average has fallen more than 10% from a week earlier, while the other four had more modest drops, according to Covid Tracking Project data. Overall, the U.S. seven-day average is down 20% from a week ago, to 192,825, because the drop is much greater in some states -- down 39% in Missouri, for instance.
Speaking at a White House press briefing Thursday, Anthony Fauci, director of the National Institute of Allergy and Infectious Diseases, said the virus "might actually be plateauing."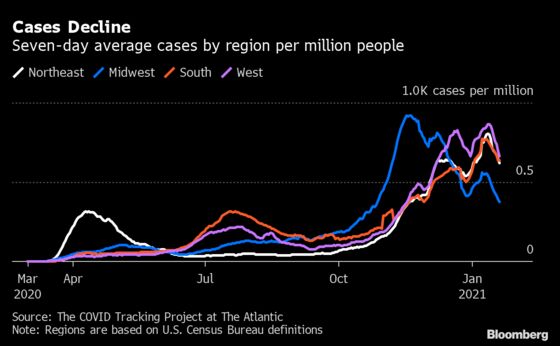 The number of people currently hospitalized with the virus fell to 122,700, the lowest since Dec. 28.
The hopeful numbers came as President Joe Biden unveiled his strategy to fight the virus, while warning that the death toll could eclipse 500,000 in the next month. Biden's projection is roughly in line with the consensus view from disease models. Deaths typically lag infections by weeks, and often take much longer to get reported by state governments.
The U.S. is projected to see 22,500 to 23,300 deaths a week for the next four weeks, according to the University of Massachusetts' Reich Lab, which issues a four-week forecast based on 46 different models collected in collaboration with the U.S. Centers for Disease Control and Prevention.
The latest drop follows a wave that raged across the U.S. since at least October. Although the trend is improving, many areas still have dangerous levels of viral prevalence and high hospitalization rates.
Meanwhile, the nation's vaccine push is still in its infancy, with 17 million doses of the vaccine administered, or 5.23 per 100 people, according to the Bloomberg Vaccine Tracker.
More than 406,000 people have died in the U.S., according to Johns Hopkins University data.
According to Covid Tracking Project:
Arizona leads the nation in number of people hospitalized with the virus per capita.
Virginia is the only state to report record cases this week.