Anti-Vaxxer Books Top Search Results at Amazon, Barnes & Noble
(Bloomberg) -- Searches for "vaccine" on Amazon.com Inc., Barnes & Noble Inc. and French retailer Fnac consistently turn up books and essays questioning the efficacy and safety of virus inoculations — an ominous sign as governments around the world prepare to roll out Covid-19 immunization shots.
Two of the top five books in "vaccine" search results on Amazon.com promote anti-inoculation theories. The first such result on Barnes & Noble is a book by Thomas Cowan, an American doctor who claims the current pandemic was caused by 5G wireless technology. Fnac's top "vaccine" search result is "Truth About Vaccines," a 2018 essay by controversial scientist Didier Raoult, who promoted the use of hydroxychloroquine as a cure for Covid-19.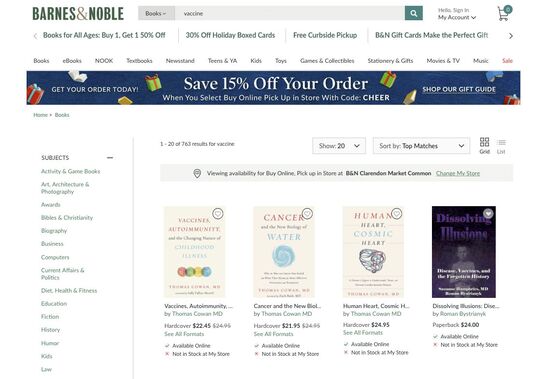 Healthcare experts fear that anti-vaccination sentiment, on the rise in recent years, could prompt millions of people around the world to refuse Covid-19 shots, making it that much harder to end an outbreak that has already killed 1.5 million globally. In France, for example, 59% of the population said they wouldn't get a Covid shot, according to a poll published in Journal du Dimanche. The U.K. is preparing to roll out Pfizer Inc.'s vaccine, while the U.S. could approve the shot for emergency use as early as Thursday.
Amazon doesn't disclose exactly how its search algorithm works beyond saying it's designed to highlight relevant results for shoppers. Bloomberg tested the term "vaccine" across several regions, returning top-ranked books such as "Jabbed: How the Vaccine Industry, Medical Establishment, and Government Stick It to You and Your Family" and "Raising a Vaccine Free Child."
"Our shopping and discovery tools are not designed to generate results oriented to a specific point of view," an Amazon spokesperson said in a statement. "Similar to other stores that sell books, we provide our customers with access to a variety of viewpoints. We're committed to providing a positive customer experience and have policies that outline what products may be sold in our stores."
A spokeswoman from Fnac said the company's search results are "based on the rate of clicks, on consultations of product sheets and on sales on a given theme." Literature on whether to vaccinate a pet is more popular than the merits of human vaccination, the spokesman said.
Fnac said it "may have to intervene manually to ensure that they are representative of a given theme," and told Bloomberg it has already performed such manual tweaks for search results on religious books.
A spokesman from Barnes & Noble said rankings are based on "the exact proximity of the title to the search term used," adding that they  "do not expect any customer to assume a recommendation on our part simply because a book is listed in consequence of a general search. For each title, a sales ranking is given which gives indication of the popularity of the book."
"These platforms are not selling burgers, they are selling intellectual content," said Tristan Mendes-France, a digital studies associate lecturer at the Paris University and a member of the nonprofit Conspiracy Watch. "Their role isn't to block or censor, but to avoid accelerating the visibility of authors and essays preaching revisions of history, health or climate issues."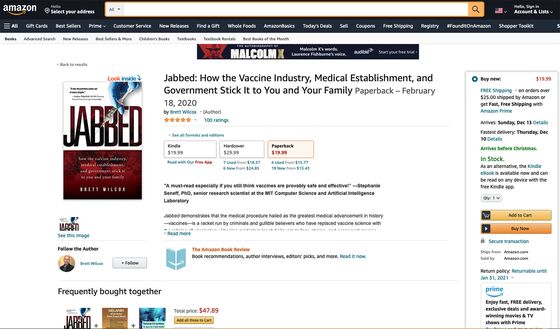 Big tech companies have been struggling to manage the increasing volume of anti-vaccination content on their platforms. Last week, Facebook Inc. pledged to start removing false claims about the immunizations. Twitter Inc. has added warnings for content that could be related to conspiracy theories. YouTube, Google's video service, has removed videos pushing dubious methods to prevent the virus instead of seeking medical treatment.
Amazon has previously been accused of misleading customers about health information. Early this year, the head of the U.K.'s National Heath Service called for booksellers to change their algorithms to curb the promotion of anti-vaccine literature. Amazon last year pulled several anti-vaccine documentaries from its Prime Video services after pressure from U.S. lawmakers.
A reviewer on Amazon.co.uk for a book on vaccines claimed that infant vaccinations caused her son to develop autism, a false theory that was endorsed by U.S. President Donald Trump. The review has received more than 700 recommendations.
Vaccines are designed to trigger the immune system into fighting off diseases. In rare instances, they can cause serious side effects, but have done more than any other medical innovation to save lives and improve health. Last year, a reluctance by parents to vaccinate their children, driven in part by vocal immunization detractors, emerged as a global driver for a surge in measles cases.
A survey by Ipsos in November of 18,000 adults found that 27% probably would decline to be vaccinated against Covid-19, a sentiment that has deepened since August.
"I would not see this as an example of biased algorithms," said Frederik Zuiderveen Borgesius, a professor at Radboud University in The Netherlands focusing on security and privacy. "However, this example does illustrate something about ranking algorithms. Even if it's often a good idea to put the most popular product on top, that sorting rule may have unexpected or unwelcome effects."