Coty CEO Frustrated With Supply Chain Snags at Beauty Brands
(Bloomberg) -- Coty Inc. suffered multiple disruptions to its supply chain in Europe and North America that hindered the beauty giant's operations and stifled sales last quarter. The shares tanked the most since the company went public in 2013.
"It is disappointing and it is incredibly frustrating," Coty Chief Executive Officer Camillo Pane said in an interview Wednesday. "This is clearly a temporary setback in achieving our financial targets and strategic goals."
Those issues aside, Pane said he continues to see strong consumer demand for luxury and professional beauty products.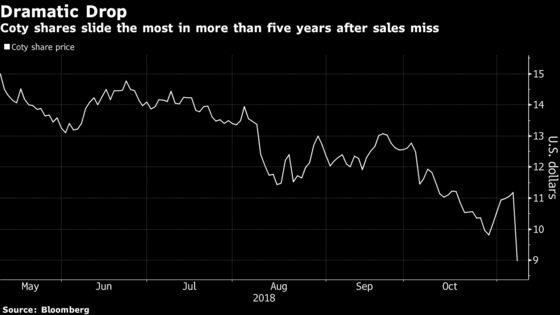 Much of the strain has come while integrating acquired products into Coty's structure. Coty made a $12.5 billion bet to buy Procter & Gamble Co.'s specialty beauty businesses, adding 43 brands in 2016 including CoverGirl and Clairol, and has been consolidating operations to save on costs.
Coty's fiscal first-quarter revenue fell and missed the lowest of analysts' estimates. The stock tumbled as much as 22 percent to $8.74 in New York, the biggest intraday drop in more than 5 years. The shares had already sunk 44 percent this year through Tuesday's close.
Two of Coty's projects in Europe ran into issues last quarter. A planning hub that's being consolidated in the U.K. had trouble coping with volume, and a luxury goods warehouse in Germany couldn't keep up either. Pane expects service to be largely restored by the end of December.
Coty's Results Send Shares Plunging, Beauty Peers Now in Focus
Coty said it expected supply chain issues to impact performance this quarter too, but to a lesser extent. Hurricane Florence, which ravaged the Carolinas in September, forced Coty to shut down a manufacturing plant and warehouse in North Carolina for more than two weeks. "We couldn't do anything," Pane said.
Elsewhere, key third-party suppliers couldn't keep up with orders, leading to a shortage of the pumps and bottles used in its luxury beauty products, he said.
Pane said 80 percent of the planned supply chain changes have been implemented, and the company remains "fully committed" to its savings targets as a result of the acquisition. The company expects to save $225 million in fiscal 2019 and $750 million total.