Cotton Touches Decade High After U.S. Cuts Domestic Crop Outlook
(Bloomberg) -- Cotton futures jumped to the highest in more than 10 years after the U.S. government cut its outlook for domestic production more than analysts expected.
The Department of Agriculture  on Wednesday trimmed its estimate for U.S. output to 17.62 million bales, mostly because of yield revisions for Texas, the top-producing state. That compares with 18.28 million bales the USDA estimated in December, and 18.24 million projected by analysts in a Bloomberg survey. The agency noted shipping disruptions affecting world trade. 
March futures jumped as much as 2.6% to $1.1899 a pound in New York, the highest for a most-active contract since July 2011, before trimming some of the gain.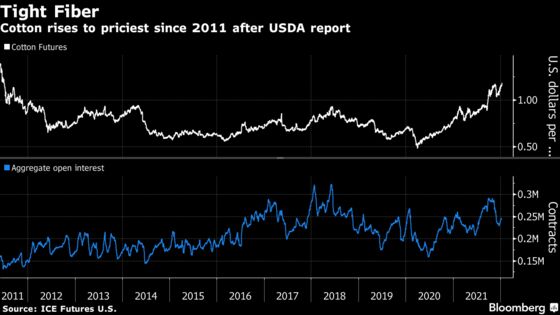 The fiber surged 44% last year on projections for a second global deficit. Still, cotton is rising not because of shortages, but because the fiber is not reaching the places where it's needed, said Peter Egli, a Chicago-based director for Plexus Cotton Ltd.
Global consumption forecast was virtually unchanged with a 500,000-bale decline in China's cotton use offset by gains for India, Mexico, and Pakistan. Global ending stocks were cut 726,000 bales, each weighing 480 pounds, or 218 kilograms.