Costco Falls After Reporting Problem With IT Systems in Results
(Bloomberg) -- Costco Wholesale Corp.'s information-technology problem, which roiled its bookkeeping and sent the stock tumbling on Thursday, was tied to workers getting access to financial data after they should have been cut off.
While a company official was cryptic on their call with analysts, Costco later said that it has hired outside experts to check for any signs of meddling. Earlier, in its report for the latest fiscal quarter, Costco said it expects to disclose "material weakness in an internal control" related to user access to the systems that support the "financial reporting process."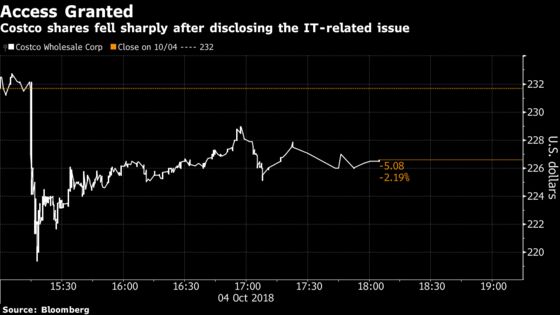 "We should have done a better job," Chief Financial Officer Richard Galanti said.
"All the lookbacks we have done, and our outside help has done, has found no issues whatsoever in terms of misstatements or breaches," Galanti said. "But we can't be more positive" until the release of its annual report, which should be filed on schedule, he said.
Despite a share decline of as much as 5.3 percent in extended trading, only one analyst asked about the issue on the company's conference call. The issue should be remedied over the next twelve months, the company said.
In the quarter ended Sept. 2, Costco's earnings per share met estimates. Profit margins, however, narrowed due to a higher percentage of total sales coming from gasoline, which is less lucrative for the company compared with the merchandise in its stores.
Costco also said it plans to open its first Chinese location, in Shanghai, next September.