Corporate PACs Donation Halt Chills a Congress Hooked on Cash
(Bloomberg) -- The unprecedented decision by major U.S. corporations to suspend political contributions to 147 Republican lawmakers after last week's Capitol riot marks a sudden shift in the congressional campaign money machine, where donors are using their financial clout to punish more extreme views.
Dozens of major U.S. companies — in the technology, energy, retail, and services industries as well as Wall Street banks — announced this week that they would stop donating to Congress temporarily in the aftermath of Republicans' effort to overturn the election results and the mob violence by supporters of President Donald Trump at the U.S. Capitol last week.
Some companies singled out only those Republicans actively involved, others said they were stopping entirely.
Campaign finance experts, lobbyists and former lawmakers say it's too soon to know whether the ban will last, but acknowledge even a pause in corporate giving is unparalleled.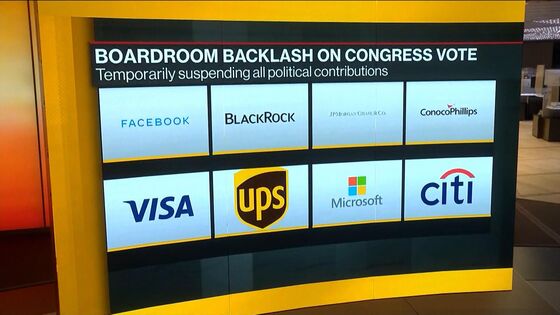 If it does last, the tourniquet on giving would impost a small but significant constriction in the system of political fund raising that favors incumbents, provides access for lobbyists and helps decide who rises to leadership positions.
Political action committees sponsored by corporations contributed $360 million in the 2020 election cycle, according to the Center for Responsive Politics. That's a small sliver of the estimated $13.9 billion spent by all campaigns, parties and super-PACs.
But the dollars donated by political action committees tied to business interests play an outsize role in the House of Representatives, where they can be a deciding factor in who climbs the leadership ladder.
Of the 399 House incumbents who ran for re-election last year, 86 raised more than half of their campaign money from business PACs in the 2020 election cycle. They include prominent Democrats like Majority Leader Steny Hoyer, Majority Whip James Clyburn, Ways and Means Chairman Richard Neal and Energy and Commerce Chairman Frank Pallone Jr.
Top Republicans who relied on business PACs for more than half their campaign coffers include Representatives Kevin Brady, ranking member of the tax-writing Ways and Means Committee, and Patrick McHenry, who fills the same role on the House Financial Services Committee.
The PAC donations are important because members who want to be in leadership have to raise money to pay their "dues" to their party, according to Michael Beckel, who documented the phenomenon in a 2017 study for Issue One, a bipartisan congressional reform group. House Speaker Nancy Pelosi and Minority Leader Kevin McCarthy are some of their parties' biggest fundraisers who spread the wealth around, a factor in their ascensions.
Candidates from safe districts — who can afford to spread their PAC-fueled largess — are rewarded with leadership posts and top committee assignments. Those jobs allow them to write bills that might favor the same corporate contributors that helped them get there, bringing more contributions and more influence.
If corporate PACs stopped giving entirely "that would represent a tectonic shift, with massive implications for how candidates, political parties, and other political groups raise money," Beckel said.
Incumbent Republican representatives who voted against ratifying President-elect Joe Biden's victory received $58.5 million in the 2020 campaign cycle, according to data compiled by Bloomberg News from the Center for Responsive Politics.
Overall, Republicans raised a higher percentage of their campaign money from corporate PACs than Democrats. But there was a big disparity between Republicans voting to certify the election results, who received 31% from corporate PACs, and those voting to overturn them, who received just 19.8% from those same sources.
Republican members who stand to lose the most include Frank Lucas of Oklahoma, Blaine Luetkemeyer of Missouri, Adrian Smith of Nebraska and Sam Graves of Missouri. All voted to overturn Biden's wins in Arizona and Pennsylvania, and received more than two thirds of their campaign contributions from corporate PACs. They also serve on some of the House committees with the most influence over business interests: Financial Services, Energy and Commerce, and Ways and Means.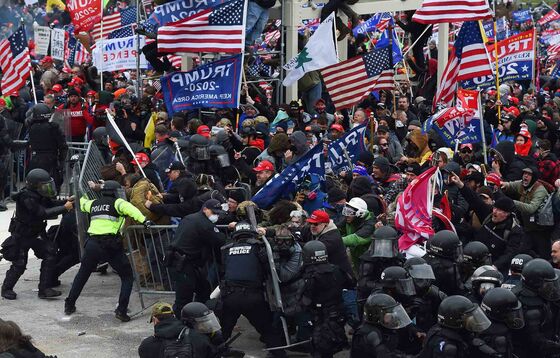 None of the four responded to a request for comment.
Turning off the spigot of corporate money to members deemed out-of-bounds could become a useful corrective to the extreme partisanship that has increasingly characterized Congress, said Zach Wamp, a Tennessee Republican who served eight terms in Congress before leaving in 2011.
"These companies have a right to say that if your values and votes don't align with our corporate values and policies, we're not going to support you," he said. "That's accountability, and in American politics there's almost none anymore. You know how rarely that happens?"
Yet a prolonged drought of corporate campaign money to all members could also have unintended consequences.
"Longterm incumbents in leadership positions from poorer districts might not be that excited about a permanent ban," said Craig Holman, a lobbyist for the consumer-rights group Public Citizen.
A shortage of PAC contributions would also eliminate an important tool for lobbyists to open doors at the Capitol. But Steven Billet, a professor at George Washington University who formerly ran AT&T's PAC, said those doors would likely remain open for the time being.
"These are people who should have the kinds of relationships with members and their staff where, even when there are pretty harsh positions taken, you can still have the discussion, you'll get your calls responded to," he said. "You expect them to be able to keep the avenues of communication open."
'How Long Will This Last?'
With a critical mass of companies unilaterally disarming one of their most potent lobbying weapons, the true impact of this week's corporate action could depend on whether that stance will endure once the passions of the moment fade and public attention wanes.
"Here's the things we don't know: How long will this last? Will they just wait six months and make it all up? Will they be part of an effort to find another way to get money to politicians -- through trade associations or super PACs or other dark money groups?" said Meredith McGehee, executive director of Issue One, who nevertheless praised the action.
Other reformers say the corporate announcements — coming nearly two years before the next federal election — amount to little more than window dressing.
"I've never taken corporate PAC money, including from Wall Street banks, because our grassroots movement is people-powered," Representative Katie Porter, a California Democrat, said on Twitter. "If JP Morgan is serious about change, they should shut down their PAC instead of this short-lived PR stunt."
But Billet said the corporate world was sending a strong message that it won't tolerate encouragement of violence or threats to the rule of law.
"Revolution just doesn't work with corporate America," he said. "Chaos doesn't. Instability doesn't."