In Coronavirus Testing Ramp-Up, U.S. Called Private Sector in Late
(Bloomberg) -- Every outbreak of a new disease is a race between the pathogen and the people trying to stop it: At first, the virus is somewhere out in front. Catch up with it before new patients become contagious, and it can be surrounded and cut off. Let it run too far ahead, and the race is lost.
In the U.S., the race to contain the new coronavirus with testing is all but over.
With reported cases rising rapidly, hospitals are anticipating a wave of sick patients and struggling to secure supplies of surgical masks, eye protection devices, and ventilators. States are now trying to limit the damage from the pathogen, which experts believe could infect at least half of the country's 329 million people, curtail economic and personal activity for weeks or months, and plunge the economy into recession.  
"We're so far behind this thing at this point. And the reason we're so far behind is because we've had so little testing," said Ashish Jha, director of the Harvard Global Health Institute.
"This is such a rapidly moving infection that losing a few days is bad, and losing a couple of weeks is terrible," Jha said. "Losing 2 months is close to disastrous, and that's what we did."
On Feb. 29, after weeks of criticism from state health officials, the Food and Drug Administration lifted a key regulatory hurdle and let lab companies and hospitals more easily test patients for the virus. The government's tight initial control over who could do diagnostic work has been called a "failing" by Anthony Fauci, the director of the U.S. National Institute of Allergy and Infectious Diseases. Then, on Monday the agency went further, allowing states to clear tests from local labs — a move that will increase the number of tests, but give up part of the FDA's role. The new policy "does carry risks," such as problems with tests, FDA Commissioner Stephen Hahn said in a briefing with reporters Monday night.
"Our response is adapting as this public health emergency continues to evolve. And we believe being flexible is extremely important," Hahn said. 
But a review of the government's regulation of testing up to this point reveals an even more troubling conclusion: Washington missed an early opportunity to leverage the resources of the private sector, states and top-flight academic institutions to do what other countries have done to contain the virus — test as many people as possible. Instead, health authorities were left with a diagnostic tool developed by the U.S. Centers for Disease Control and Prevention that ran into weeks of problems, hobbling efforts to track and control the virus at a time when it might have been contained.
The technical problems with the CDC test have been well-chronicled, by everyone from local labs struggling to use it to frustrated patients who have shown up at the hospital with symptoms only to be told that they couldn't be checked. Less well-known is the behind-the-scenes effort by companies like Swiss medical giant Roche Holding AG, which as early as January was working on a process to run thousands of coronavirus tests at a time.
Roche began work on its high-speed, high-volume test in January, as a team of disease-watchers at the company saw a worrying outbreak in China developing. The test was given emergency authorization by the FDA on March 13. Roche's highest-speed automated machines can process more than 4,000 patient tests a day. If dedicated only to coronavirus testing, just four of those machines could equal the current volume of tests being performed by the U.S. each day at maximum capacity, according to figures provided by Roche and to members of Congress at a Thursday briefing.
The Roche test is a scientific success. But it also marks the U.S. government's failure to anticipate that what happened in China could happen elsewhere, and that to stop it, the U.S. would need every tool possible from the private and public sectors to contain the outbreak while it still could be.
Representatives for the White House, the U.S. Centers for Disease Control and Prevention, and the Department of Health and Human Services either declined to comment or didn't respond to requests for comment on Monday. Hahn, in the press conference Monday night, said that the FDA had been working with diagnostics developers since Jan. 26.
In recent days, some states have given up on efforts to contain the new coronavirus, instead buckling down and trying to keep their health-care systems from being overwhelmed. And even as the ability to test patients rises rapidly thanks to the entry of private testing, it raises the question: Why did it take the government almost a month to ask for help?
"Our concern is Covid-19 has been with us for at least six or eight weeks and we haven't known about it. We lost valuable time," said Rod Hochman, chief executive officer of health system Providence St. Joseph Health, which is based in Washington and treated the first  known U.S. patient with the new virus in January. "That's something we are never going to get back, and right now we have to do the best with what we have."
Washington state now has more than 900 known cases of Covid-19, as the disease caused by the virus is known. At least 48 people there have died, many in a cluster of residents in a nursing home outside of Seattle.
President Donald Trump, asked to assess the U.S. response so far as well as the testing, said Monday that things had gone extremely well. 
"I'd rate it a 10, I think we've done a great job," he said at a news conference at the White House. "We really took over an obsolete system, or, put it maybe in a different way, a system that wasn't meant to do anything like this. We took it over. And we're doing something that's never been done in this country. And I think that we are doing very well."
The U.S. has vast capacity to test for and diagnose diseases. In hospitals and at centralized lab facilities sit hulking machines that can process hundreds or even thousands of samples at a time. In physician offices, a throat swab can detect strep throat in minutes. 
But the CDC test sent out to public-health labs was more like a chemistry experiment done by hand. After a swab is taken from a patient's nose and mouth, it's run through a small machine or chemical kit to extract a virus's genetic material. Lab workers then set up a tray full of reagents—chemicals that will indicate the presence of the virus. The samples are gently mixed for a few seconds, then added carefully, one by one, to the reagents. Lab workers are instructed to change protective gloves often to avoid contaminating the samples.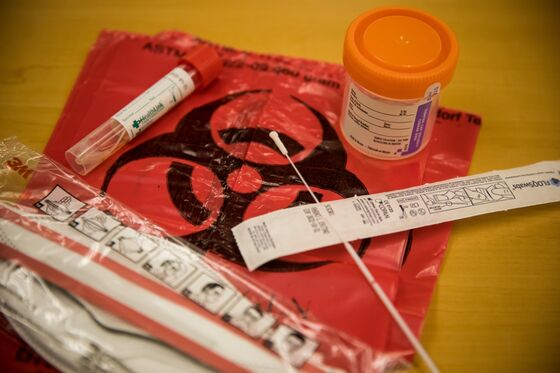 The FDA cleared the CDC test for wider use on Feb. 4, saying certified labs around the U.S. would be able to use them to check for cases. At the time, there were still less than 20 known cases of the virus in the U.S. and samples were being sent to the CDC for confirmation.
Eight days later, the agency said it had a problem. Some local labs weren't able to perform what's called validation, a test-run of the kits to make sure they're accurate.
"We think that maybe one of the reagents wasn't performing consistently," Nancy Messonnier, director of the CDC's National Center for Immunization and Respiratory Diseases, said on a Feb. 12 call with reporters. The agency said it would have to remanufacture and send out new versions of the reagent. The process would end up taking more than two weeks.
Across the country in Pleasanton, California, work on another test for the virus was well underway. Roche, which makes high-capacity diagnostics machines that are the size of a small car, had seen what was happening with the virus despite the small number of cases at the time in the U.S. and Europe.
Roche has long had expertise in the type of testing used to look for Covid-19. It bought the rights to the technology, known as polymerase chain reaction, or PCR, back in 1991, Thomas Schinecker, CEO of Roche Diagnostics, said in an interview. At the Pleasanton headquarters of its molecular diagnostics unit, it also has a global emergency team that constantly monitors viruses around the world.
The company was able to start work in January using the coronavirus's genetic sequence, which had been published by researchers. It eventually obtained a sample of the virus from a patient in Washington state.
"We started very early because we knew it would increase exponentially," Schinecker said. "It was clear."
As Roche worked on its test in California in February, more Covid-19 cases in the U.S. began to be identified. So too did complaints about the lack of alternatives to the still-problematic CDC test.
The University of Washington Medical Center's laboratory in Seattle was ready to test local patients for Covid-19, but couldn't. State and local health labs had versions of the CDC kit, but the university medical center didn't qualify for those. Though its team had developed several tests, they couldn't use them on patients without regulatory clearance.
Alex Greninger, an assistant director of the university's clinical virology laboratories, grew so frustrated that he and about 100 colleagues from across the country wrote an appeal to members of Congress.
"This regulatory process is significantly more stringent than that required for every other virus we test for," they wrote on Feb. 28, noting that no test manufacturer or clinical laboratory had successfully been cleared at that point. Many of their labs had already created tests "that we could begin testing with tomorrow, but cannot" because of the FDA's stringent clearance process.
"We lost time because of these regulations," says Susan Butler-Wu, associate professor of clinical pathology at USC's Keck School of Medicine, director of a clinical microbiology lab in Los Angeles County and one of the letter's signatories. "And we're still being hamstrung because of them, too."
The same day the researchers wrote the letter to Congress demanding the ability to run their own tests and help track the virus, the U.S. reported its first Covid-19 cases of unknown origin. In California, Oregon and Washington, patients were found who had no travel to China, where the outbreak began, and no contact with other known cases.
While health authorities had struggled with their tests, the new coronavirus had raced ahead. There are now more than 4,300 cases in the U.S., a figure that could be a vast underestimate because of the slow rollout of testing.
The virus had broken out.
The FDA put out new emergency guidance the next day, a Saturday, more than three weeks after it gave the go-ahead to the troubled CDC test. The decision opened up testing by industry giants Laboratory Corporation of America Holdings and Quest Diagnostics Inc., and kicked into high gear test development efforts by players like Roche.
Commercial lab-testing ability should grow to more than 20,000 tests per day once large diagnostics platforms become available this week, more than doubling U.S. testing capacity to date. By April 1, commercial labs may be able to process more than 280,000 tests a week, according to an industry group's estimate.
Labs like the University of Washington can also start running their tests. Once the FDA put out the new rules, University of Washington Medical Center had its own testing running within 48 hours, Greninger said. Though its machines can process the samples quickly—running roughly one a minute—the lab has also needed human labor to help. Hoping to increase the number they could test, a call went out on Thursday asking other researchers to put their usual duties on hold to help process samples for at least a week, if not longer, according to an email provided to Bloomberg News.
The FDA's emergency guidance could have been given earlier, says University of Washington Medical Center's Greninger. But what happened also reflects how quickly the conditions around Covid-19 were changing, he said.
"You could completely convince yourself as of mid-February that it was going to be okay," he says. "People didn't really appreciate and respect the virus until it was here."
In a tweet on Friday, Trump described the U.S. testing shortfall as an indictment of a public-health system that had yet to be pressured in such a sweeping way.
"It would always be inadequate and slow for a large scale pandemic, but a pandemic would never happen, they hoped," Trump wrote. "The changes have been made and testing will soon happen on a very large scale basis."
It may not matter. While the Roche test and others have been cleared by the FDA for emergency use, the nation has moved into lockdown mode. While the World Health Organization is urging nations to test as many patients as possible and work toward containment, some in the U.S. are using a more pessimistic approach. 
"We've moved on from testing quite frankly to other things right now," Maryland Governor Larry Hogan said during an interview with MSNBC on March 13. "We've moved from a containment to mitigation, and quite frankly at sometime soon we're probably not going to be able to test as much because the hospitals will be overwhelmed."
No longer is the focus on racing ahead of the new coronavirus when it was just a few known cases. Instead, people are being told to work from home, large gatherings are discouraged, bars and restaurants are being shuttered, and schools are being closed across the country. Hospitals have started clearing out beds and canceling procedures, bracing for a wave of patients to arrive at their doors. The strategy has shifted from test and contain to "mitigate"—blunting the peak of severe patients that authorities worry might swamp the health system if the spread is as bad as some fear.
Harvard's Jha is optimistic about recent actions taken at the state level, but predicts that the U.S. is still far from the peak of this pandemic.
"We're slowly starting to catch up but we're still behind," he said. "The only shot we have, I believe, of staving off the worst is going to a national quarantine for 14 days."