Air Clears in Rome, Paris, and Madrid as Millions Stay Home
(Bloomberg) -- Air pollution in some of Europe's major cities has dropped dramatically since governments ordered citizens to stay home to contain the spread of the novel coronavirus. 
Readings from the Copernicus Sentinel-5P satellite show a significant decline in the concentrations of nitrogen dioxide over Rome, Madrid, and Paris, the first cities in Europe to implement strict quarantine measures. The images show average concentrations from March 14 to 25, compared with the monthly average concentrations from last year.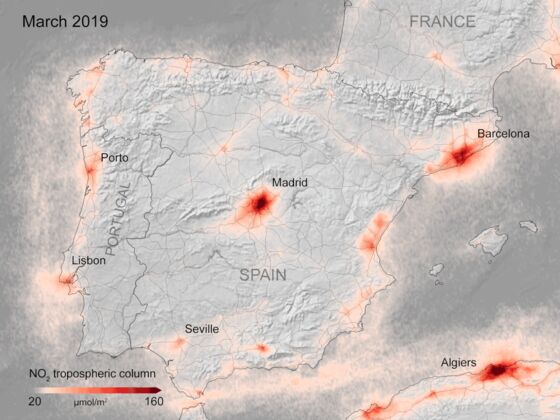 The Copernicus satellite already detected a drop in air pollution two weeks ago in northern Italy, the first region in Europe to adopt confinement measures for the broader population, which include restrictions on transport and industrial activity. Space agencies including Europe's  ESA and NASA in the U.S., have been forced to halt some missions due to the coronavirus outbreak, but so far it hasn't impacted their ability to gather climate data from satellites. 
The European Space Agency is closely monitoring cities in the Netherlands and the United Kingdom, ESA said in a statement. Daily nitrogen dioxide readings are volatile and vary largely depending on weather conditions, so scientists are using a 10-day average to obtain more reliable results.

Northwestern European countries adopted confinement measures later than southern neighbors, so pollution measurements from this week will help to assess the changes in a few days' time, the agency said. 
Scientists from the Royal Netherlands Meteorological Institute, or KNMI, will be using data from the Copernicus Sentinel-5P satellite to come up with more accurate pollution data. Researchers will combine weather data, on-the-ground data and satellite readings to estimate the influence of the shutdown measures. 
"Atmospheric chemistry models, which account for daily changes in weather, in combination with inverse modeling techniques are needed to quantify the emission based on the satellite observations," said Henk Eskes, a researcher at KNMI, in a statement. "These studies have started, but will take some time to complete."