Coronavirus Caution Keeps High-Flying Deere's Feet on the Ground
(Bloomberg) -- If there was one dark cloud in Deere & Co.'s otherwise stellar quarterly earnings it was how much the coronavirus outbreak could weigh on the machinery giant's customers and suppliers in the coming months.
Deere surprised investors Friday by delivering profit growth and pointing to green shoots in farmer confidence after two years of being hammered by trade wars and wild weather. Its shares surged the most in three years to a record.
But on a call with company executives, analysts asked what was behind the decision not to raise its earnings outlook. One reason for the cautious approach is the deadly virus that's disrupted trade, transport, labor and industry.
The company is working on contingencies to ensure it can get parts to facilities in case the outbreak impacts its suppliers in China, executives said on the call. They flagged a $40 million expense for expedited air freight that will hit in the second quarter. Less of a concern are Deere's sales in the Asian nation, although road building there has been affected.
"Even with the beating of the quarter and a lower tax rate, they do seem to be little bit more cautious partially due to the $40 million," Ashish Gupta, senior machinery analyst at Stephens Inc., said after the earnings call.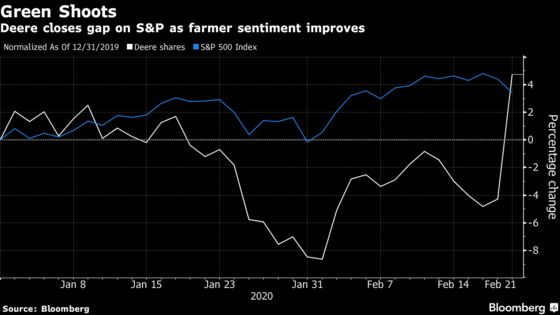 While the phase one trade deal between Beijing and Washington has improved farmer confidence, it's still too early to provide forecasts on China's agriculture purchases as overall activity has slowed in the Asian country, Deere said.
Deere maintained its fiscal 2020 net income guidance, forecasting a range of $2.7 billion to $3.1 billion. That compares with the $2.9 billion average analyst estimate.
The company's cautiously optimistic view on agriculture was supported by government crop projections released Friday. The U.S. Department of Agriculture expects American soybean stockpiles to sink to pre-trade war levels as China comes back into the market.