Coronado Seeks Up to $1 Billion in Top Australian Coal IPO
(Bloomberg) -- Coronado Global Resources Inc., a miner backed by private equity firm Energy & Minerals Group, and current investors are seeking to raise as much as A$1.4 billion ($1 billion) in what would be Australia's largest coal initial public offering.
The company and existing holders are offering Chess Depository Interests at A$4 to A$4.80 each, according to a prospectus lodged Monday with the nation's regulator. That will give Coronado, the biggest U.S. metallurgical coal producer, an enterprise value of as much as A$4.4 billion. Trading is scheduled to start Oct. 23 on the Australian stock exchange, it said in an emailed statement.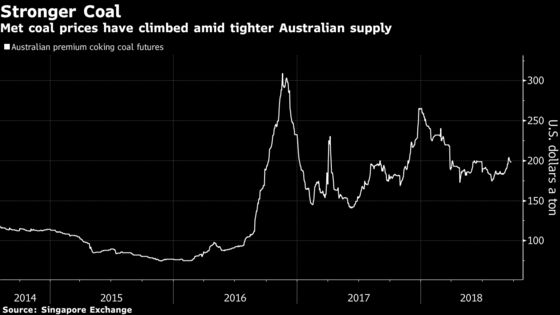 Coronado's IPO is set to top Aston Resources Ltd.'s A$400 million listing in 2010 as Australia's largest coal float, data compiled by Bloomberg show. A total of 290 million CDIs will be available under the offer, according to the prospectus. Energy & Minerals will retain a 69 percent stake, new shareholders will own 30 percent and the rest will be held by management.
A rebound in coal prices is helping producers generate significant returns again after a prolonged slump forced many to shut operations, shelve development projects and cut jobs. Coronado, which has mines in the Central Appalachian region of the U.S., expanded into Australia last year with an agreement to purchase Wesfarmers Ltd.'s Curragh mine for A$700 million.
The entry into Australia gives Coronado easier access to some of the world's top steelmakers in China, Japan and South Korea. About 76 percent of its 2017 output was met coal, which is used to make steel, according to the statement.
Coronado has total met and thermal coal production capacity of about 20 million tons annually, including about 12 million tons from Curragh in Queensland's Bowen Basin, according to a March statement.