Continental Sees Muted Returns on Chip Shortage, Pandemic
(Bloomberg) -- Continental AG said profitability will be held back by an industrywide shortage of semiconductors that could drag on through the rest of the year and ongoing fallout from the pandemic.
Europe's second-biggest car-parts maker expects a margin of 5% to 6% on adjusted earnings before interest and tax this year, according to a statement Tuesday. That compares with analysts' average estimate of 6.3%.
The start of the year "has been subdued so far due to the shortage of semiconductors," Chief Financial Officer Wolfgang Schaefer said. "The effects of the ongoing coronavirus pandemic remain a source of uncertainty too. All in all, 2021 will therefore remain challenging."
The German manufacturer has been hard hit by the global health crisis that's disrupted the industry, having announced plans last year to cut or transfer some 30,000 jobs. A steady decline in returns culminated in the abrupt departure of Chief Executive Officer Elmar Degenhart. Since then, chip troubles have plagued plants across the industry.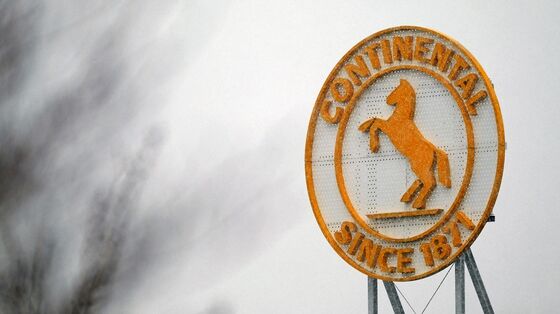 Constraints from the shortage will cost the company about 200 million euros ($237 million), mainly in the form of additional logistics expenses. The bottlenecks should ease during the course of the year, new CEO Nikolai Setzer, 49, told reporters. Continental has stepped up freight operations to mitigate disruptions for customers and is working "24 hours, seven days a week" to solve the situation, he said. Roughly 800 staff are involved in trying to limit the damage.
Continental hasn't set aside funds for possible damage claims from customers, CFO Schaefer said during a press conference.
Continental's margin outlook is "disappointing" and "may result in double-digit consensus downgrades," Bloomberg Intelligence analyst Michael Dean said in a report. Shares fell as much as 6.6% to 120.35 euros in Frankfurt trading to value the company at 24.2 billion euros.
There are some signs of moving past the pandemic. Continental expects a rebound in global passenger-car output of between 9% and 12% after the health crisis shut factories last year and demand slumped.
Protracted supply chain issues complicate the job ahead for Setzer, who must reverse an erosion of earnings over the past five years. Continental is seeking to roughly triple profitability to reach an 8% to 11% margin in the medium term.
Setzer pledged in December to sharpen the group's focus on growth areas. Investments in automated driving functions will rise by as much as 250 million euros this year as the auto industry adds electric models and software-based functions. This could lead to acquisitions or divestments of legacy operations -- Continental is exploring a sale of its turbocharger unit, Bloomberg reported in October.
Continental swung to a 718 million-euro operating loss last year, while the adjusted result more than halved to 1.3 billion euros. The adjusted Ebit margin slumped to 3.5%, the company said.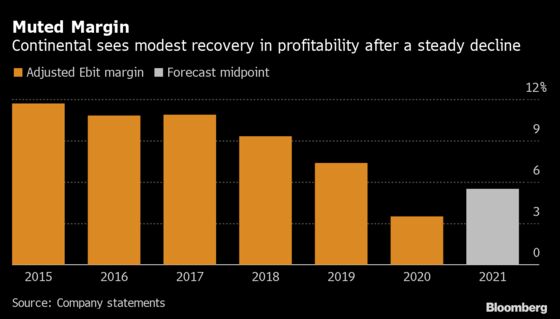 Continental has catching up to do. Suppliers including Aptiv Plc, Denso Corp. and Valeo SA "are best positioned to master the transition" while the EV shift will boost overall demand for powertrain components from suppliers, UBS Group AG analysts said in a report last week. Parts makers like Continental might benefit as well but have more work to do to adjust their legacy combustion business, UBS said.
The Hanover-based company reiterated Tuesday it plans to spin off its powertrain unit Vitesco Technologies in the second half of the year. Completing the separation of the operations that span EV and combustion-powertrain components and sensors would go a long way toward Continental showing it can push through structural changes. The project faced several changes and delays in the past.
Revenue this year will rise to about 40.5 billion euros to 42.5 billion euros, up from 37.7 billion euros.