Congo's Tshisekedi Sworn In as President, Ending Kabila's Rule
(Bloomberg) -- Felix Tshisekedi took the oath of office to become president of the Democratic Republic of Congo, completing the country's first transition of power by the ballot box after an election questioned by rivals and influential vote monitors.
Tshisekedi, 55, becomes only the fifth head of state in the cobalt- and copper-rich nation since it gained independence from Belgium in 1960. The election of the leader of Congo's biggest opposition party, disputed by rival candidate Martin Fayulu, brings to an end the 18-year rule of Joseph Kabila, who was barred from seeking a third term by the constitution.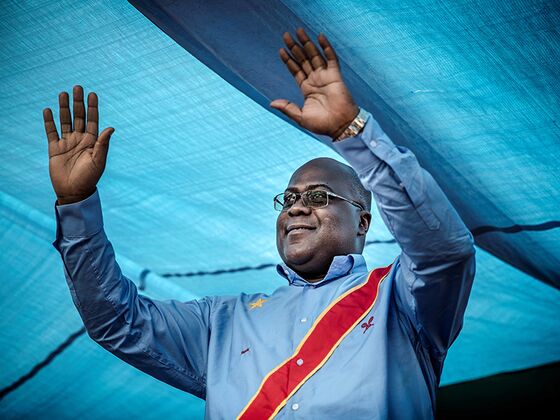 "This is a historic day," he said at a ceremony in the capital, Kinshasa. "We want to build a Congo that's strong and that focuses on its development, on peace, on stability."
Tshisekedi briefly interrupted his speech after he felt unwell, according to Politico.CD, a Kinshasa-based news website. He resumed speaking after removing his bullet-proof vest, which had been causing him discomfort, it reported, without citing anyone.
Tshisekedi inherits an economy that's been buffeted by slowing growth since a commodity-price crash in 2014. It expanded fivefold under Kabila's rule as a tiny elite amassed large fortunes while most of Congo's 80 million people live in grinding poverty. He'll also face ongoing insurgencies by more than 100 militia groups in the mineral-rich east that's in the grip of an Ebola outbreak.
Congo accounts for two-thirds of global production of cobalt, a metal used in rechargeable batteries, and has deposits of gold, diamonds, tin, copper and coltan, an ore that contains a metal used in mobile phones.
Fayulu, who led a rival opposition alliance into the Dec. 30 election and finished second in the presidential contest, unsuccessfully challenged Tshisekedi's victory at the Constitutional Court. After rejecting the court's ruling in favor of Tshisekedi, Fayulu proclaimed himself Congo's sole legitimate president and called for peaceful protests across the country.
A body representing Congo's Catholic bishops said the official tally didn't reflect the findings of its nationwide observer mission, while leaked troves of near-matching voting data show Fayulu obtained more votes than Tshisekedi, according to New York University's Congo Research Group. African leaders called for a recount of the vote before dropping the demand and urging stability instead.
Fayulu says Tshisekedi and Kabila struck a secret agreement following the vote to deprive him of the presidency -- a charge denied by both camps. He was backed during the presidential campaign by Moise Katumbi and Jean-Pierre Bemba, two of Kabila's most powerful adversaries. Kabila's hand-picked successor, Emmanuel Ramazani Shadary, finished a distant third in the polls.
The scion of long-time opposition leader Etienne Tshisekedi, who died two years ago, Tshisekedi campaigned on pledges to clamp down on rampant corruption, enhance security and promote development. In the days leading up the electoral commission's Jan. 10 declaration of his victory, he also gave strong indications that he won't pursue investigations of Kabila or members of the current government.
Kabila's tenure was marred by a controversial 2011 re-election, violent crackdowns on opposition supporters and allegations that he used his position to expand his family's business interests.
Tshisekedi's capacity to act independently remains a subject of fierce debate after Kabila's coalition won a large majority in the National Assembly, despite Shadary's poor performance in the presidential election.