Congo Opposition Pledges Unity and Joint Candidate at Rally
(Bloomberg) -- Seven key opposition leaders in the Democratic Republic of Congo pledged unity and promised to back a single candidate against President Joseph Kabila's chosen successor in elections in December.
Such an outcome would increase the chances of Kabila's opponents defeating Emmanuel Ramazani Shadary, a former interior minister whose been sanctioned by the European Union for his role in human-rights abuses. The Dec. 23 poll is a one-round contest and multiple candidates would split the anti-Shadary vote.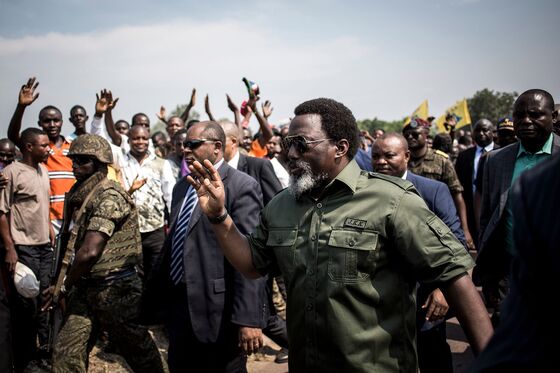 "The opposition must be united behind a candidate that we will choose and that we will support," Jean-Pierre Bemba, leader of the opposition Movement for the Liberation of Congo, told thousands of people Saturday in Congo's capital, Kinshasa.
Only four of the seven politicians can run for the presidency. Bemba, who finished second to Kabila in 2006, was disqualified by the electoral agency and Moise Katumbi, a onetime ally of the president who's been in self-imposed exile for more than two years, was blocked by Congolese authorities in August from returning to the country to file his candidacy. The electoral commission also excluded Adolphe Muzito, a former prime minister. Bemba and Katumbi addressed the crowd from abroad by phone.
Out of the rally's organizers permitted to challenge Shadary, the best established candidates are Felix Tshisekedi, the leader of Congo's largest opposition party, and Vital Kamerhe, who finished third in the 2011 election. Tshisekedi said the identity of the single candidate would soon be revealed.
Presidential and parliamentary polls have been delayed since 2016, after the electoral commission failed to organize them on time. Congo hasn't had a peaceful transition of power since it gained independence from Belgium in 1960. Kabila's decision to nominate Shadary ended long-running speculation he'd seek to defy a two-term limit imposed by Congo's constitution. His initial decision to stay in power beyond the end of his second mandate sparked sporadic protests in which security forces killed dozens of people.
At Saturday's rally, speakers denounced Kabila's record as one of poverty, corruption and insecurity in the world's largest cobalt producer. They asked the electoral commission to reverse its plan to use voting machines, claiming they are "cheating machines" and to remove millions of "fictitious" names from the electoral register.
"The hour is grave, my brothers and sisters, the hour is grave for the country," Bemba said. "We want the people to get out of this misery."