Congo National Assembly Removes Speaker in Win for President
(Bloomberg) -- Democratic Republic of Congo's National Assembly voted to remove its speaker, a victory for President Felix Tshisekedi in his power struggle with former President Joseph Kabila.
A majority of those present at the assembly on Thursday approved a petition that accused Jeanine Mabunda, a longtime ally of Kabila, of opaque financial management, contempt and violations of the constitution and assembly's rules.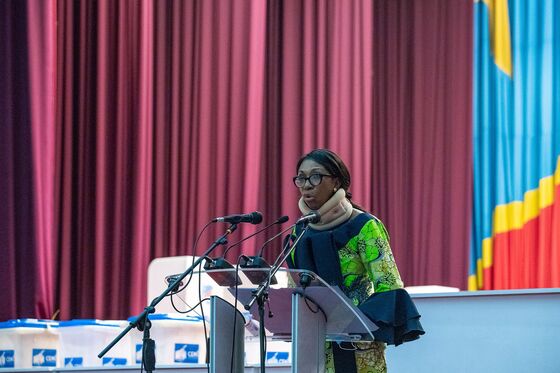 Mabunda urged her colleagues to reject the petition in a 15-minute speech in which she denied the accusations and apologized for misunderstandings about parliamentary procedure.
The removal of Mabunda marks a shift in the balance of power in Congo as Tshisekedi seeks to end two years of sharing power with Kabila and implement reforms needed to revive Congo's faltering economy. Tshisekedi's administration has struggled to pass laws that would help unlock hundreds of millions of dollars of increased support from the World Bank and International Monetary Fund.
Congo, the world's largest producer of cobalt and Africa's biggest exporter of copper, has been hit by the fallout from the Covid-19 pandemic. Growth is expected to shrink to almost 2% this year, according to the central bank.
Tshisekedi and Kabila formed a coalition government after a disputed 2018 election that saw the former president's supporters take control of parliament and most government offices.
On Sunday, Tshisekedi said the coalition had "crumbled" and that the parliamentary majority led by Mabunda had paralyzed the government and left the country in "persistent crisis." Tshisekedi said he would try to identify a new majority to break the impasse that had led his supporters to push for Mabunda's removal.
Several physical fights broke out in parliament this week as Kabila's coalition called the move unconstitutional, insisting it still has a majority in parliament, even with Mabunda's fall.
Tshisekedi's spokesman, Kasongo Mwema Yamba Yamba, said on Twitter that the president's search for a new majority "has just scored its first major points."
Mabunda, 56, is a lawyer and was portfolio minister in Kabila's administration. She also served as Kabila's adviser in the fight against sexual violence.
"The pain is deep, but it cannot shake us," Mabunda and Kabila's political party, the People's Party for Reconstruction and Democracy, tweeted after the vote. "Let's continue the fight."