Congo Delays Much Awaited Presidential Election by One Week
(Bloomberg) -- The Democratic Republic of Congo's electoral authority postponed Sunday's elections, which are already two years overdue, by a week.
The delay to the presidential and parliamentary votes extends President Joseph Kabila's nearly 18-year rule of the copper- and cobalt-rich nation. The announcement, anticipated throughout the day, triggered clashes in the capital, Kinshasa, between the police and supporters of Felix Tshisekedi, one of the two main opposition presidential candidates.
Corneille Nangaa, president of the National Independent Electoral Commission, or CENI, said Thursday that the postponement to Dec. 30 was necessary after a fire at one of its warehouses last week destroyed election materials.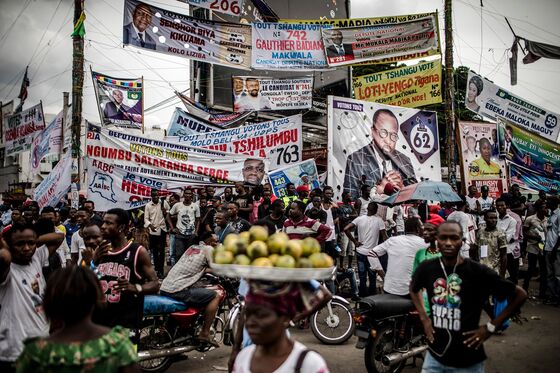 "The electoral process is continuing," Nangaa told reporters in Kinshasa, as he called for calm over the delay.
Congo hasn't had a democratic transfer of power since it gained independence from Belgium in 1960. The central African nation is the world's largest source of cobalt and Africa's biggest producer of copper from mines run by companies including Glencore Plc and China Molybdenum Co.
New material had to be ordered from the South Korean manufacturer after some 8.000 voting machines were destroyed in the fire, Nangaa said. Five million new voting ballots were ordered and the last batch is only expected to be delivered on Dec. 22, he said.
It would have been possible to postpone the vote in the capital while proceeding in the rest of the country on the original date, but a decision was made to delay the elections nationwide, the CENI head said.
Kabila has anointed Emmanuel Ramazani Shadary as his successor in the poll. A former interior minister, Shadary is one of 15 Congolese officials sanctioned by the European Union since December 2016 for allegedly undermining democracy and abusing human rights. His main rivals are Tshisekedi, the leader of the biggest opposition party, and Martin Fayulu, who said Wednesday he wouldn't accept any change to the ballot date.