Confirming a 'Dead Cat Bounce' Is on Bears' Minds: Taking Stock
(Bloomberg) -- We have the two heaviest weeks of earnings season upon us, with the firehose only ~24 hours away from being unleashed -- Caterpillar, United Tech, 3M, Lockheed Martin, Verizon all report Tuesday morning -- and we'll soon start to get a good sense of how conservative some of the biggest companies in the world are getting when it comes to macro concerns and micro pressures.
The market's focus will, no doubt, be squarely on corporate results and the management commentary that goes along with them, from the forecast boosts and cuts, the impossible task of quantifying tariff risk (European large cap Philips sank almost 10% today after warning it may have to revamp its entire supply to chain to limit the impact from the trade war), the tough-to-predict impact from FX and elevated interest rates, the more-frequent practice of analyst bashing, etc.
But there is one big distraction that'll be kept in peripheral view: The midterm elections, which come almost immediately after we get through the two-week deluge of earnings. Expect the Trump tweets to get louder and the maneuvering from the current administration to get more visible.
Case in point are two things that caught my eye this weekend: 1) Trump caught Republican tax policy makers off-guard this weekend when he vowed to push through a "very major" tax cut for the middle class prior to the midterms, and 2) journalist Carl Bernstein said Trump is prepared to call the midterms "illegitimate" if the Democrats take control of the House or Senate.
The trade war with China remains the market's biggest overhang, but nothing has moved on that front for a very long time and the consensus is that nothing will move until we get through the midterms and know how the lay of the political land stands.
So in reality, it's altogether possible that the confluence of earnings, midterms, and some potential headway on China may make the next 3-4 weeks the most important of the year when it comes to deciding whether we revert back to record highs or the nine-and-a-half year bull market deflates further.
Calls for a 'Dead Cat Bounce'
The bears who are calling for the latter situation are pounding the technical term "dead cat bounce" for the recent action that has allowed the S&P 500 to hold very tightly near its 200-day moving average (the 25-handle reversal in the futures from overnight lows gives some credence to this) -- Morgan Stanley strategist Michael Wilson is one of those now hawking the morbid term, arguing that the market correction isn't done yet and telling clients not to buy the dip in growth, tech, or consumer discretionary stocks.
And it's not just the tape in the U.S. where you can talk about a "dead cat bounce." Take a look at what's been going on in the Chinese equities market recently, with the Shanghai composite up nearly 7% in the past two sessions after a ~30% slide from the January peak.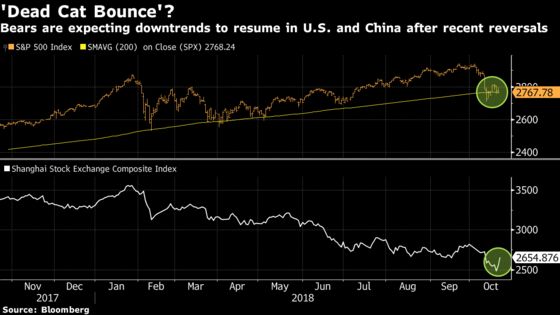 Almost one-fifth of the S&P 500 has released results for the calendar year third quarter, and a couple things stand out. For one, the earnings beats are at a very high percentage of ~85%, like last quarter, but the top-line results are coming in a bit worse, where 65% have beat so far versus last quarter's 72%.
Secondly, the price reactions are pretty evenly spread out by sector so far, but the one outlier is the newly revamped Communication Services. See the purple dot on the far right of the matrix below to see the how stark the difference is versus all other groups.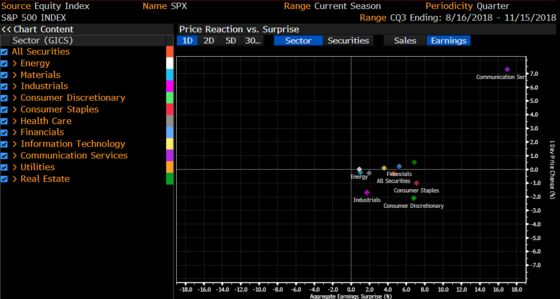 It's an extremely small sample size of only three reports so far (Netflix, Omnicom, Interpublic Group), but the aggregate surprise of ~17% and positive price movement of >7% is off the charts compared to the rest. It may be nothing,
Just something to think about with some of the heavier-weighted members set to report this week, from Alphabet, Charter and Comcast to AT&T and Verizon.
The entire cybersecurity group (think FireEye, Palo Alto Networks, and like ~10 others) may get an early bid on a report over the weekend that Facebook may buy a major company in the space by year end
Transports may be under pressure after Morgan Stanley downgraded the sector to a cautious view (more on this below)
Railcar sector after American Railcar enters into a $1.75 billion merger paact
Frack sand names like U.S. Silica, Smart Sand, and Covia after peer Hi-Crush massively reduced its quarterly distribution and reported sales below forecast
Toy-related stocks like Mattel and Funko after a big whiff from Hasbro, which cited impact from "lost Toys 'R' Us revenues"
Homebuilders are in a tailspin thanks to higher rates and weaker housing data and the market is in wait-and-see mode for any catalyst (perhaps PulteGroup earnings tomorrow?) that might stem the bleeding in the near term (see chart and color on Deutsche Bank's cautious call below)
Law-enforcement security suppliers, like Axon (formerly Taser) and smallcap Digital Ally, may be under pressure on news that the New York Police Department is removing nearly 3,000 body cameras from use after one device exploded into flames
Sectors that may move ahead of earnings over the next ~24 hours include heavy machinery (Caterpillar), truck machinery (Paccar), defense (Lockheed Martin), biotech (Biogen), restaurants (McDonald's), telecom (Verizon), titanium (Allegheny Tech), airlines (JetBlue), and the online brokers (TD Ameritrade)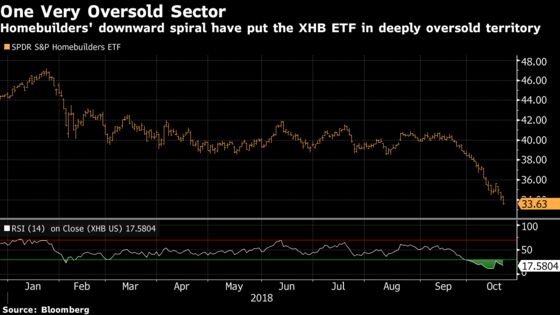 Here's some stuff you might have missed since Friday's close:
New York Post ran an op-ed that said to count on Hillary Clinton running again in 2020; Barron's cover story was an emerging markets roundtable with Morgan Stanley's Ruchir Sharma, Oppenheimer's Justin Leverenz, Baillie Gifford's Richard Sneller, and Wasatch Advisors' Laura Geritz; WSJ profiled ex-Enron natural gas trader John Arnold, who retired with $3.3 billion in assets and has since put up more than $100 million to fight skyrocketing drug prices; former equity analyst-turned-cannabis-executive Darren Gacicia was profiled in Forbes; Elon Musk said the Boring Co.'s hyperloop test tunnel will open in under two months; Beijing's highest-ranked official in the Macau casino market was found dead on Saturday; Tuesday's Mega Millions and Wednesday's Powerball jackpots are a combined $2.2 billion; the controversial comeback of former West Village hotspot The Spotted Pig may hinge on Jay-Z; Lebron James' home debut as a Laker was spoiled by a brawl that was started by Rajon Rondo apparently spitting on Chris Paul; Michigan is now in the College Football Playoff conversation; and Justin Tucker was 222 for 222 on extra points before shanking the game-tying kick against the Saints with 24 seconds left.
Notes From the Sell Side
Morgan Stanley slashes its view on the freight transportation industry to cautious on downside risk to consensus due to slowing demand ("2019 Looking More Like 2015 Than 2018" is the title of the note); the analysts downgrade both Union Pacific and Genesee & Wyoming to underweight and Old Dominion to an equal-weight.
Deutsche Bank cuts estimates and adjusts its ratings on the homebuilders to a "more defensive posture," downgrading PulteGroup (reports earnings tomorrow), Toll, and Taylor Morrison whil upgrading Lennar and Meritage Homes. The bank says consensus earnings estimates still assume 8% order growth and flat gross margins in FY2019, "both scenarios that are unlikely to come to fruition with housing demand having weakened mid-year."
Nomura Instinet upgrades Intel to a buy, though it's unclear if its a tactical call through the year end or something that is much longer lasting: "There isn't a company in our semiconductor coverage universe that we see raising estimates in October or November. Intel is likely the only exception."
RBC upgrades Pershing Square holding Chipotle to an outperform ahead of earnings on Thursday; while results may be "lackluster," the analysts are now modeling a ramp up in comp sales growth from 4% to 6% through the second half of 2019.
Tick-by-Tick Guide to Today's Actionable Events
7:00am -- IQV earnings
7:00am -- VRAY investor meeting
7:30am -- KMB earnings
8:00am -- LII earnings
8:30am -- Chicago Fed
8:30am -- HAS earnings call
9:00am -- HAL earnings call
10:00am -- KMB earnings call
10:05am -- Jared Kushner discusses prison reform at CNN forum
10:40am -- JEC CEO Steven Demetriou on Bloomberg TV
11:00am -- PII earnings call
1:00pm -- SJI investor meeting
4:01pm -- AMTD earnings
4:05pm -- CDNS earnings
4:15pm -- SPN earnings
4:30pm -- SLM earnings
4:30pm -- Bloomberg LP founder Michael Bloomberg's closing remarks at CNN forum
5:00pm -- ZION, BRO (roughly) earnings
5:01pm -- CR earnings
Tonight - Giants at Falcons (-3.5)