The Hottest Market for Trading Houses Is the Coldest Fuel
(Bloomberg) -- The boom in liquefied natural gas is sending a clear signal that the fastest growing fossil fuel is no longer a sideshow for the biggest energy and commodity traders. At the same time, some utilities are exiting.
Gunvor Group Ltd., the biggest independent trader of LNG, as well as Trafigura Group Pte Ltd. and Glencore Plc, all reported soaring volumes this year as they continue to diversify away from the pure oil trading that turned them into money machines bigger than some national economies.
The firms are turning to natural gas, the cleanest fossil fuel, at a time when the focus on pollution and global warming is bigger than ever. New supplies from the U.S. to Russia and Australia sent prices to seasonal record lows, attracting new consumers. Contracts with more flexible terms and a nascent financial market are also boosting activity.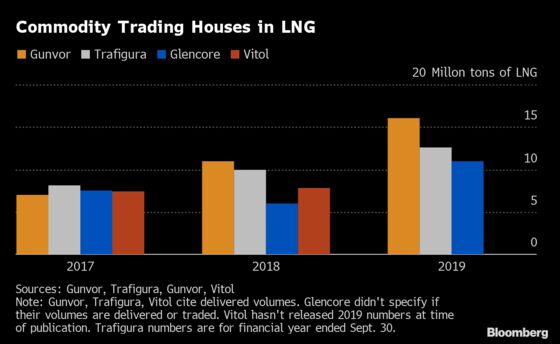 "The increased activity from the trading houses demonstrates their long-term commitment to LNG," Alex Lee, managing director at Connexus Global, a recruiter in Singapore, said by email. "They are determined to cement their position and drive the industry as it becomes more commoditized."
As a result, there's been several deals over the past few months.
And while trading companies expand from London to Singapore and beyond, some European utilities are leaving. Spain's Iberdrola SA is getting out and Naturgy Energy Group SA may soon follow. Denmark's Orsted A/S, which has transformed itself from an oil and gas company to the world's biggest offshore wind producer, said on Wednesday it will sell its LNG activities to Glencore.
Who's buying what in LNG M&A:
Pavilion Energy Pte agreed in June to buy Iberdrola's LNG business for 115 million euros ($128 million), giving the state-owned Singaporean importer a deeper fuel portfolio and a wider swathe of global assets
Glencore agreed to buy LNG operations from Orsted A/S, which was a loss-making business for the Danish utility; the deal adds assets for the commodity trader, such as capacity at a terminal in Rotterdam and five purchase deals
Naturgy may sell its LNG business after receiving several offers
The trading companies know better than most how to navigate the logistical challenges in a market where more than 500 tankers crisscross the oceans and sometimes change route to higher-priced destinations. That's far from how the industry started about five decades ago with long-term contracts between producers and consumers.
While most of commodity traders set up desks years ago to build the business for when the U.S. exports boom started in 2016, some companies such as Mercuria Energy Group Ltd. are just starting and "may grow rapidly as they seek to make an impact," Lee said.
"I would like to see more players come in as well, more independent players," said Nathan Arentz, director of natural gas and LNG at Glencore. "Now is the time, this market looks very much like the oil market 20 to 30 years ago."
The trading companies expanded even as an almost 40% slump in the benchmark Asian price over the past year cut arbitrage opportunities between regions. Instead, they had to come up with new ways of making money that include cargo swaps, holding back on deliveries and trading oil-linked cargoes against spot tankers.
China remained a key market even if purchases slowed from the previous couple of years. India, a price-sensitive buyer that switches from coal to gas when prices fall, has to some extent compensated for the drop in demand from China, the world's biggest energy consumer.
India was the biggest market for Gunvor this year, while Glencore also attributed its growth this year to a focus on south Asian nation. The world's largest publicly listed commodity merchant was also the biggest spot trader in China. For Trafigura, more buyers lured by cheap LNG and the evolution toward shorter and more flexible contracts drove performance.
As regional price differentials vanished, northwest Europe has been soaking up a lot more cargoes than usual. Imports will probably jump 70% to 82.5 million tons this year, according to Wood Mackenzie Ltd. That's as much as biggest LNG importer Japan bought last year.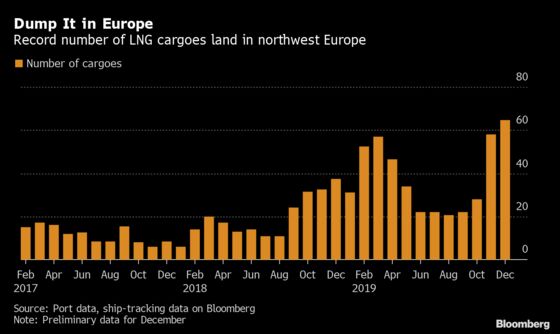 While the independent traders are quickly seizing opportunities, they are still far behind some oil majors, including Royal Dutch Shell Plc, which sold 54 million tons in the first nine months of the year. Rosneft PJSC, Russia's biggest oil producer, has so far been on the sidelines, but is planning to start a Geneva trading desk in the new year.
"There are several participants actively looking to grow their international trading activities, and a quick way to achieve this is through M&A deals," Lee said. "We anticipate more of such deals to come. Over the next two years we will see who is committed and who does not see LNG as a core activity."