Commodity Retreat Led Junk Bonds to Worst October Since Crisis
(Bloomberg) -- As commodity markets fell, bonds from the energy and materials sectors were the big underperformers in U.S. high yield last month, data compiled by Bloomberg show. The energy sector lost 2.22 percent and materials declined 1.97 percent as the overall index fell 1.60 percent, its worst October return since 2008.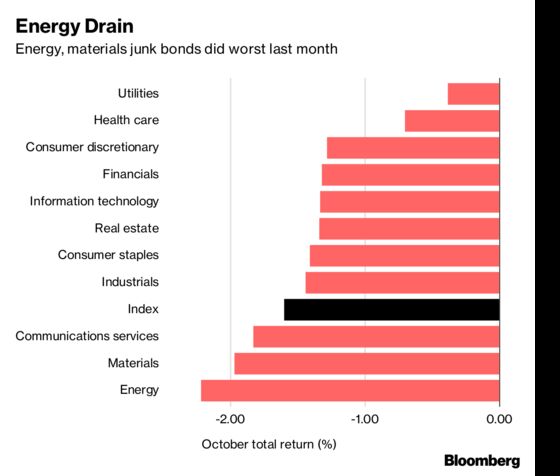 The biggest decliners in energy last month -- when the oil price dropped 10 percent -- were Sanchez Energy, Parker Drilling and Diamond Offshore Drilling. Jupiter Resources delivered the biggest loss by issuer, with a 34 percent drop in October.
Despite last month's tumble, the energy sector remains a top performer in 2018, with a 2 percent gain, more than double the return of the junk bond index overall. It has a weighting of just over 7 percent in the index.
In materials, US Concrete, Freeport-McMoRan and United States Steel Corporation had some of the worst-performing bonds. The materials sector has lost most in high yield this year, dropping 1.62 percent.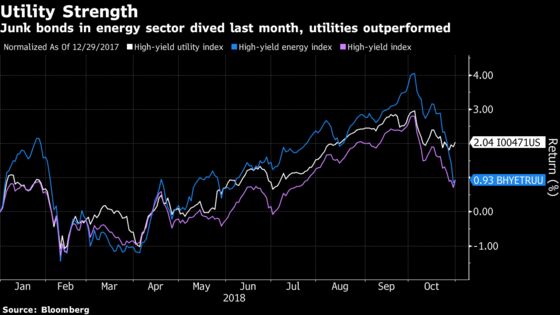 Outperformers last month were the utilities and health-care sectors, with the smallest losses. Year-to-date, communications services and health care are the junk bond winners, with gains of 4.06 percent and 3.76 percent, respectively.