Commerzbank Urged to Step Up Cuts, Overhaul Model in Review
Commerzbank AG needs to further overhaul its business model and intensify cost cuts, according to a government-commissioned review that renews pressure on Chief Executive Officer Martin Zielke to take more drastic action to turn around the lender.
Boston Consulting Group, which was asked by the German government for advice on its Commerzbank investment, said the bank should move more quickly toward a digital strategy and make deep cuts to its branch network, according to people with knowledge of the report. It criticized the firm's medium-term profit targets as too low and said the lender should consider doubling or even tripling cost-cut targets, the people said, declining to be identified as the report isn't public.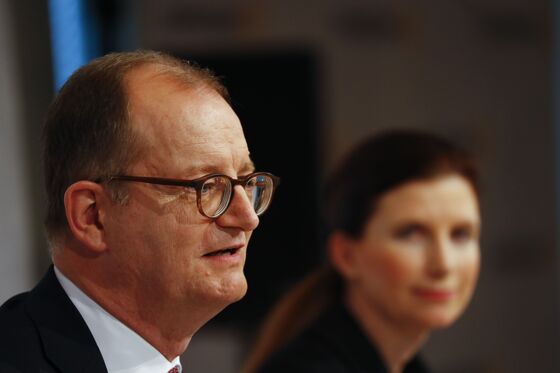 Zielke is struggling to maintain investor support after he unveiled a new set of targets last September that were widely seen as unambitious, including a profitability goal at the very bottom of the peer group. He's argued that the bank needs to maintain 800 of its approximately 1,000 branches to achieve growth in Germany's competitive retail market, despite razor-thin margins.
BCG is now sharing its findings with Germany's Finance Agency, which oversees the government's Commerzbank stake and which will share the report with the Finance Ministry. Government officials will then discuss the results with Commerzbank's leadership, the people said.
The German government is Commerzbank's largest shareholder by far, owning a stake of 15%.
Shares of the lender extended losses, falling 7% at 10:31 a.m. in Frankfurt, compared with a decline of 4.6% for the Stoxx Europe 600 Banks Index.
The BCG report also recommends further cutting Commerzbank's capital markets activities, reducing its foreign activities and making heavier investments in information technology, the people said.
"We haven't seen the report yet. If those points are the ones it raises, then they are not new for us," a Commerzbank spokeswoman said by email. "We have been working on those points for a substantial period of time."
She pointed to an announcement by Zielke and Chief Financial Officer Bettina Orlopp at the bank's fourth-quarter results presentation two weeks ago that the bank is working on additional cost cuts. It said it will present more details in the summer at the latest.
The German Finance Ministry, Finance Agency and BCG all declined to comment.
The bank said that it's accelerating its move into digital banking after failing to reach digitalization targets Zielke set in in his first turnaround plan in 2016. That strategy also didn't meet its revenue, job cuts and profitability targets, forcing Zielke to present his new plan in September.
Several large shareholders and regulators including Cerberus Capital Management privately dismissed Commerzbank's new profitability target as too low shortly after Zielke presented the new strategy, people familiar with the matter have said. The German government was among the investors expressing dissatisfaction, the people said now.