Commerzbank to Cut 10,000 Jobs as CEO Knof Drops Growth Plan
(Bloomberg) -- Commerzbank AG is proposing a major restructuring that will include 10,000 job cuts as new Chief Executive Officer Manfred Knof prioritizes cost reductions over efforts to boost revenue.
The lender on Thursday outlined the cornerstones of its new strategy, including a reduction in the number of German branches to 450 from 790, lowering the cost base by 1.4 billion euros and aiming for a return on tangible equity of 6.5% to 7% by 2024. The draft strategy, which confirms an earlier report by Bloomberg News, will be discussed by the supervisory board on Feb. 3.
Knof and Supervisory Board Chairman Hans-Joerg Vetter are also weighing a target for cutting risk-weighted assets, a key metric that determines how much capital lenders have to hold, people familiar with the matter said. Revenues, one of the bank's main targets for the past years, are expected to remain largely stable, according to the bank's statement.
The job cuts equate to about a fifth of the German bank's total workforce.
"Going forward, the bank will consistently put profitability before growth, for example when it comes to the efficient use of capital or adequate pricing of products and services," Commerzbank said
The new approach is taking a page out of Christian Sewing's playbook at Deutsche Bank AG, who is cutting 18,000 jobs and billions of euros in costs while placing a large chunk of the assets in a wind-down unit. It marks a stark departure from the turnaround efforts under Knof's predecessor Martin Zielke, who invested heavily in marketing to win new clients, only to see income from lending to those clients eroded by Europe's negative interest rates.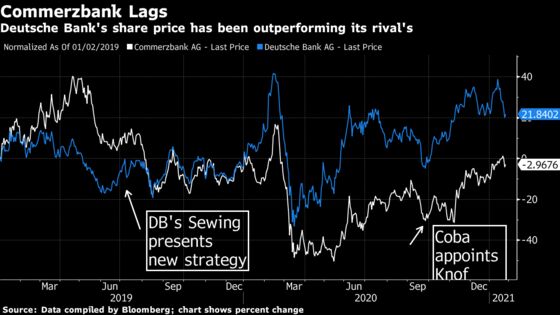 Deutsche Bank's share price has since outperformed Commerzbank's, which kept falling during the period before Zielke resigned last year. Commerzbank's stock hit a record low in early 2020 as the pandemic hit, threatening to drive up bad loans.
Shares of the lender reversed earlier losses after Bloomberg reported details of the new plan, and extended gains to 4.7% at 4:25 p.m. in Frankfurt trading.
Cutting the balance sheet could offer an alternative way to restore profitability, for example by dropping unprofitable clients and product offerings to free up capital that can then be reinvested at better returns.
Commerzbank is anticipating restructuring expenses of 1.8 billion euros, which will be fully financed with existing funds. It already set aside 800 million euros for that purpose last year.
Commerzbank has been working on a new strategy for over a year but the plan to present it in August fell apart when Zielke stepped down amid heavy criticism from investors, along with then-Chairman Stefan Schmittmann. The supervisory board subsequently appointed Vetter as new chairman, who in turn hired Knof to lead the next turnaround effort. Knof joined in January.