Commerzbank Revamp Mirrors Deutsche Bank's, Minus Trading Boost
(Bloomberg) -- Commerzbank AG's restructuring plan echoes that of its biggest rival Deutsche Bank AG, but without the latter's debt-trading profit engine to pull it through.
The Frankfurt-based lender said late Wednesday that it expects to post a loss of about 2.9 billion euros ($3.5 billion) for 2020, reflecting lower asset values and the cost of cutting about 10,000 jobs. The loss exceeds the 2.7 billion euros that analysts had estimated, and stands in contrast to Deutsche Bank's announcement Thursday of its first annual profit since 2014.
New Chief Executive Officer Manfred Knof's plan to take Commerzbank back to profitability involves a similar kind of cost-cutting focus that Deutsche Bank chief Christian Sewing deployed in 2019 when he slashed his workforce by a fifth. While both lenders, which held merger talks in 2019, have struggled with the negative policy interest rates in the region, financial market volatility has helped Sewing's bank to trade its way out of the slump.
Commerzbank announced job-cutting expenses of more than 800 million euros and an impairment on goodwill of roughly 1.5 billion euros. The firm's shares fell as much as 3.5% on Thursday and are down 84% over the past decade, the third-worst performance in the 33-company Bloomberg Europe 500 Banks and Financial Services index.
An expected 233-million-euro operating loss for last year "clearly reflects the burdens of the coronavirus pandemic," it said.
Commerzbank's traditional profile as the lender to Germany's Mittelstand corporate backbone, without a large investment bank, leaves it more tied to the broader economic recovery and a return to higher interest rates than Deutsche Bank.
Commerzbank also detailed some of its new strategy last week after a Bloomberg report about the plan. Developed by Knof and supervisory board Chairman Hans-Joerg Vetter, the program is designed to shed about a quarter of the workforce to boost return on tangible equity to about 7% by 2024. It's a stark turnaround from the growth targets pursued by their predecessors.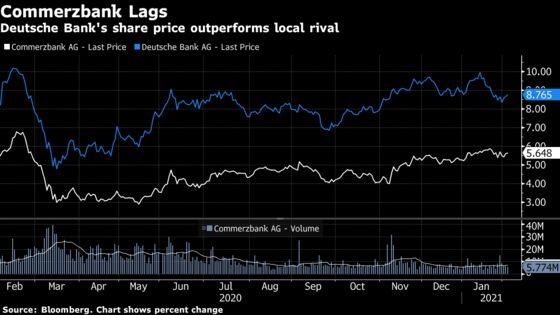 Commerzbank's supervisory board said it backed the turnaround plan, and provided more details on Wednesday. It said the program will include cutting its foreign presence to fewer than 40 countries from about 50.
"Our new strategy creates a strong foundation for a sustainably profitable and highly efficient Commerzbank," Knof said in the statement. "The planned reductions are certainly very painful. We will implement this program rigorously and consistently but also in a fair manner and with mutual respect."
The bank had been working on a new strategy for more than a year, but a plan to present it in August fell apart when former CEO Martin Zielke and then-Chairman Stefan Schmittmann stepped down amid heavy criticism from investors. The supervisory board subsequently appointed Vetter as the new chairman, who in turn hired Knof to lead the next turnaround effort. Knof joined in January.
At Deutsche Bank, Sewing's overhaul plan from 2019 involved an exit from equities trading and the reduction of the workforce by some 18,000. That pivot focused the bank more squarely on servicing corporate clients, a strategy that would have likely led to further net losses amid the pandemic had trading revenue not been available as a fall-back. The reliance on debt trading at Germany's largest lender is now at the highest since 2010.
Deutsche Bank's Chief Financial Officer James von Moltke said in an interview that he sees "positive momentum" in trading continuing into 2021 and that he expects the bank to see robust activity in M&A, credit and leveraged finance.