Commerzbank is Ready to Drop mBank Sale Unless Price is Right
Commerzbank AG indicated on Thursday that it would rather keep its Polish subsidiary mBank SA than sell it too cheaply.
The German bank's improving capital buffer gives the bank leeway on the mBank sale, Chief Executive Officer Martin Zielke said in conference on Thursday. Chief Financial Officer Bettina Orlopp said earlier that the deal will only take place "if we get the right price."
The comments add to signs Commerzbank is gradually softening its commitment to divesting mBank. It previously indicated a sale of the Polish lender isn't an absolute necessity after a first round of bidding in January attracted only muted interest from potential buyers. Orlopp said that the bank still wants to sell the asset.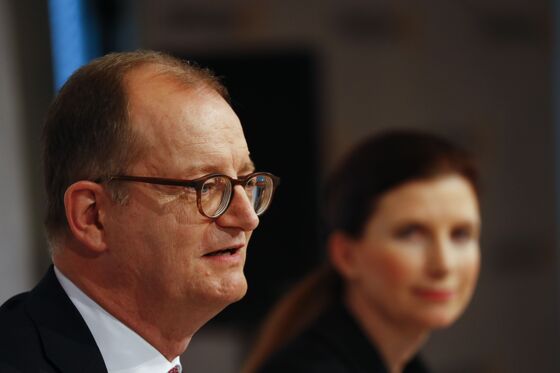 Chief Executive Officer Martin Zielke in September announced his plan to sell the Polish lender, largely to fund his four-year, 1.6 billion-euro ($1.7 billion) restructuring effort. The sale is expected to take 17 billion euros of assets weighted for risk off the Commerzbank's balance sheet and thus boost its capital buffers.
However, the need to bolster capital decreased somewhat in the fourth quarter. Commerzbank ended the year with a common equity tier 1 ratio -- a key measure of financial strength -- that was both above analyst expectations and its own target.
The capital buffer improvement provides the bank with "much more flexibility" to implement its new strategy than initially thought in September, Orlopp said on the call.
Increased capital requirements and painful provisions for legal risks from foreign-exchange mortgages are weighing down Poland's financial sector, making acquisitions there less attractive. After trying to attract interest in mBank from a wide range of banks, Commerzbank received non-binding bids for its 69% mBank stake from state-controlled Bank Pekao SA and U.S. private equity firm Apollo Global Management Inc., Bloomberg News has reported.