Commerzbank Hires McKinsey in Sign Deeper Change Is in Store
(Bloomberg) -- Commerzbank AG hired consultancy McKinsey & Co. to review its business model in a sign that a planned update of cost-cutting targets this summer may turn into a more comprehensive restructuring.
The mandate includes an examination of the bank's two main divisions focusing on retail clients and companies, according to people familiar with the matter. It will run at least through June, they said, asking for anonymity to discuss the private information.
Spokesmen for McKinsey and Commerzbank declined to comment.
Commerzbank Chief Executive Officer Martin Zielke is under pressure after key shareholders including the German government in private rejected targets announced last year as not ambitious enough. The bank has since said that it's working on additional cost cuts, but the involvement of McKinsey suggests it may be looking to make deeper changes.
The Frankfurt-based lender has struggled with low profitability since it was bailed out during the financial crisis. The share price has lost almost 99% from its peak before the crisis, and has declined 60% under Zielke.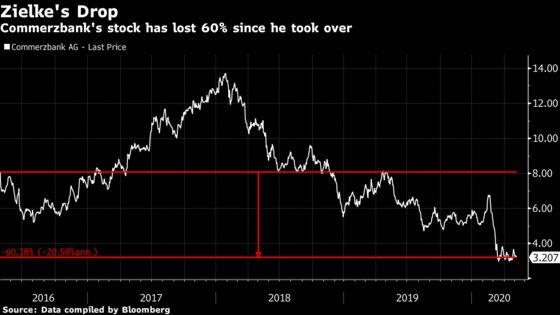 The review follows a government-commissioned study into Commerzbank by Boston Consulting Group that said the cost cutting targets could be doubled or even tripled, Bloomberg reported in February. The report also said the bank should make deep reductions to its branch network and stop a planned foreign expansion of its corporate clients division.
Roland Boekhout, who heads that division, has said that the bank's focus during the current coronavirus pandemic is on existing clients and not on acquiring new ones. He has also said the crisis confirms that the lender's earlier decision to shutter about 20% of its branches was appropriate.
Zielke has said the virus crisis has compelled many bank clients to switch to Internet offerings, accelerating a trend underway before the pandemic's outbreak.
"Banks must further build out" their digital offerings, he said in his acceptance speech after being appointed head of Germany's most influential banking lobby in April. "It must be our ambition to be drivers of digitalization and to be at the technological vanguard."