Comcast's Internet Business Fuels Growth as It Chases Deals
(Bloomberg) -- To understand how much Comcast Corp. has evolved from its cable-TV roots to an internet provider, you only had to listen to the company's Thursday earnings call.
Executives referred to "broadband" or "connectivity" -- shorthand for internet service -- almost 50 times during an hour-long call with investors. "Video" -- their cable-TV service -- came up about a dozen times.
Comcast's shifting focus in the U.S. was evident in its second-quarter results. The No. 1 U.S. cable provider added 260,000 broadband subscribers -- its best second quarter in a decade. It lost 140,000 video subscribers, the fifth straight quarter it has shed TV customers.
Management had little to say about Sky Plc, the European pay-TV company they're currently engaged in a bidding war to buy. While the deal would roughly double Philadelphia-based Comcast's customer base and counter cord-cutting in the U.S., the pursuit of Sky has weighed on its shares and raised questions by analysts who say Sky's satellite technology is obsolete.
Driven by its internet results, Comcast shares climbed as much as 4.8 percent to $35.02 in New York, their biggest intraday gain since June 14. Charter Communications Inc., the second-biggest U.S. cable company, rose as much as 5.2 percent to $288.99 as Comcast's earnings gave investors new optimism about the cable industry.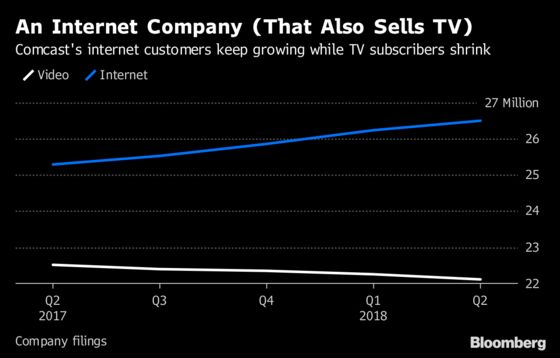 Comcast's profit rose to 65 cents a share, topping analysts' estimate of 60 cents. While sales grew 2.1 percent to $21.7 billion, they missed Wall Street's expectations of $21.8 billion.
Internet service is helping Comcast grow despite the loss of cable-TV customers, many of whom are cutting the cord for cheaper online alternatives. The company has been offering faster data service and Wi-Fi connections to keep its broadband customer base expanding.
On the call, executives noted that they've started selling internet-only packages to consumers who aren't interested in cable-TV.
Selling internet is "increasingly the focal point of our relationship with residential customers," said Chief Executive Officer Brian Roberts.
The quarterly results will likely ease one major concern among Comcast investors: that its internet business doesn't have much more room to grow.
"Comcast's cable segment knocked the cover off the ball," said Craig Moffett, an analyst at MoffettNathanson. "They beat on broadband – that's what everyone has been worried about."
Last week, Comcast backed away from a bidding war for 21st Century Fox Inc. after Walt Disney Co. made a higher offer. But the cable giant is still pursuing Sky, which has 22.5 million customers in five European countries.
Comcast has the upper hand in the fight to buy Sky, with an offer of $34 billion that's currently higher than a bid by Fox. On Thursday, Sky reported earnings that showed it was continuing to grow its customer base, underscoring why Comcast is interested in the company.