Comcast Could Enter the $100 Billion Debt Club With Its Sky Bid
(Bloomberg) -- Comcast Corp.'s winning bid for Sky Plc is poised to catapult the U.S. cable giant's debt load to $100 billion or more, putting it in a club that only a handful of other companies belong to.
It's not clear how much of Sky will end up in Comcast's hands. But if the U.S. company ends up with all of Europe's largest satellite broadcaster, its borrowings could nearly double to $114 billion and its credit quality may face pressure, according to S&P Global Ratings analyst Naveen Sarma.
"If Comcast gets 100 percent, it certainly puts a lot of stress on its balance sheet," Sarma said.
Rival bond grader Moody's Investors Service affirmed Comcast's ratings at four steps above junk on Monday, citing the company's commitment to maintaining a strong balance sheet.
Comcast has offered $39 billion for Sky and has started buying up shares in an effort to acquire more than 50 percent of the stock to cement control. One key Sky shareholder is 21st Century Fox, which owns 39 percent of Sky and is in the process of selling itself to Walt Disney Co. Fox is considering selling its stake to Comcast, which it would need Disney approval to do. If Comcast doesn't get those Sky shares and just ends up with a 61 percent stake in the broadcaster, its debt level would still be $100 billion, Sarma said.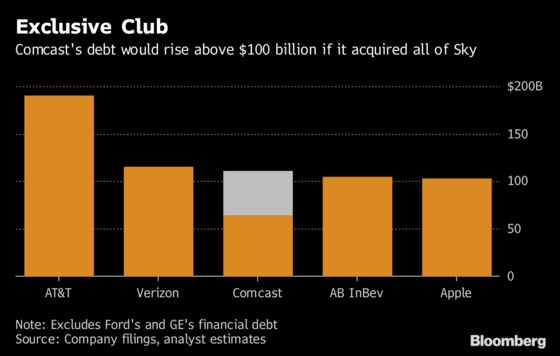 Comcast would join a relatively small group of companies with $100 billion of borrowings. Telecom providers AT&T Inc. and Verizon Communications Inc., for example, have grown their debt levels to well above $100 billion through acquisitions, which have pressured their credit ratings.
Representatives for Philadelphia-based Comcast; Burbank, California-based Disney and Isleworth, U.K.-based Sky were not immediately available to comment. A spokesman for New York-based Fox declined to comment beyond the company's earlier statement.
S&P said in February that it might cut Comcast's rating, which at A- is four steps above junk, after the cable company originally announced a bid for Sky. A bidding war with Fox ensued, culminating in an auction on Saturday in London. Comcast has said it's committed to maintaining its rating and wants to keep its debt to a manageable level relative to a measure of its earnings, in particular, at about 2.2 times its earnings before interest, tax, depreciation and amortization. If Comcast acquires all of Sky, the U.S. company's debt would rise to about 3.7 times Ebitda on a net adjusted basis, S&P's Sarma said.
Given Comcast's cash flow, the company could cut its debt to target levels within three to four years and maintain its current ratings, as long as it stops buying back shares and funnels all excess cash flow into debt payments, according to Bloomberg Intelligence analyst Stephen Flynn. Leverage would rise to around 3.4 times Ebitda if it buys all of Sky, and Comcast should be able to cut that by at least 0.3 times annually, he said.
3
Read more: BI analyst Steve Flynn's Report on Comcast Debt
Comcast has said it plans to buy back at least $5 billion of stock this year and has not announced any further plans for repurchases. Owning all of Sky would elevate Comcast's debt level to $110 billion, by Flynn's estimate.