Barrack Apologizes After Saying Criticism of Khashoggi Murder Is a 'Mistake'
(Bloomberg) -- Tom Barrack, the investor who grew to national prominence through his vocal defenses of Donald Trump, now finds himself in an uproar of his own making.
The president's longtime friend drew swift rebukes in Washington this week by declaring it a mistake to judge Saudi Arabia for the murder of Jamal Khashoggi, the journalist dismembered inside one of the kingdom's consulates last year. Barrack, who often appears on television to counter criticism of Trump's statements and policies, quickly apologized for his own words.
Khashoggi's murder "was atrocious and is inexcusable," Barrack, the head of investment firm Colony Capital Inc., said Wednesday in an emailed statement. "I apologize for not making it clear at the time that I consider the killing reprehensible."
Speaking in the Middle East on Tuesday, Barrack had said that "whatever happened in Saudi Arabia, the atrocities in America are equal or worse to the atrocities in Saudi Arabia."
"The atrocities in any autocratic country are dictated by the rule of law," he said at a Milken Institute summit in Abu Dhabi. "So for us to dictate what we think is the moral code there when we have a young man and a regime that's trying to push themselves into 2030 I think is a mistake."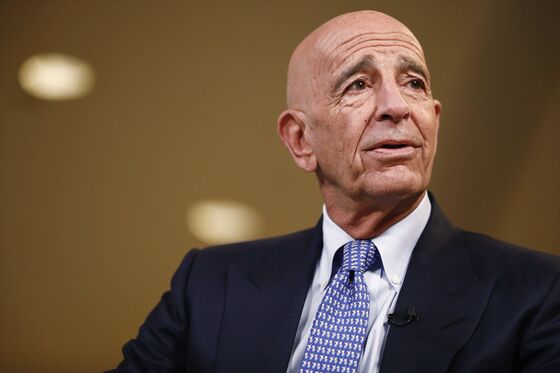 Barrack's comments sparked criticism from political commentators, celebrities and elected officials from both sides of the aisle. Republican Senator James Lankford of Oklahoma told CNN that murdering a journalist is never justifiable and that "it doesn't equate to anything that's happened in the United States where we stand up for the free press." Representative Ted Lieu, a Democrat from California, asked on Twitter why Trump chooses to "surround himself with people like Tom Barrack who put down the U.S.?"
To a degree, Barrack's comments echo what Trump himself has said about withholding judgment. The president has sought to emphasize the importance of the U.S. alliance with Saudi Arabia while questioning whether Crown Prince Mohammed bin Salman ordered Khashoggi's death. "Maybe he did, and maybe he didn't," Trump said in a statement in November.
Barrack's remarks also are reminiscent of Trump's views on other governments. In a 2017 interview, in which TV commentator Bill O'Reilly referred to Russian President Vladimir Putin as "a killer," Trump responded, "There are a lot of killers. You think our country's so innocent?"
Khashoggi, an insider-turned-critic of the Saudi ruling regime, was killed by people close to Prince Mohammed after entering a consulate in Istanbul to pick up documents for his wedding. Saudi Arabia has said the crown prince, the kingdom's 33-year-old de facto ruler, wasn't aware of any plan to murder the journalist.
Barrack -- whose links to the president go back decades, including negotiating the sale of New York's Plaza Hotel to Trump in 1988 -- has been seeking money from sovereign wealth funds and pension plans to invest alongside Colony, a $44 billion investment firm. He was chairman of Trump's inaugural committee, which disclosed raising a record $107 million. The committee's donors and potential foreign connections have drawn scrutiny, leading to a federal investigation. Barrack is cooperating with the inquiry.
He's also under the microscope for a plan to take advantage of his network of connections. Colony considered opening a Washington office to capitalize on its ties to the White House and foreign governments, Bloomberg reported earlier this month, citing an eight-page internal document. The office's focus would be to pursue deals arising from Trump's promised $1 trillion infrastructure push.
A spokesman for Colony has said the plan was conceived by Rick Gates, then a deputy of Barrack. Gates later pleaded guilty to unrelated conspiracy and false statement charges related to his work as the right-hand man of Paul Manafort when they were political consultants in Ukraine.
The son of a Lebanese-American grocer from California, Barrack strengthened his ties to Trump during the 2016 presidential campaign. The investor devoted himself so thoroughly to its success that he all but disappeared from the company he founded in 1991 and built into one of the world's highest-profile real estate investment firms. After the election, Barrack helped build a relationship between the White House and the Saudis.
The president based his Middle East strategy around an alliance with the kingdom. After taking office in 2017, Trump made Saudi Arabia his first overseas visit and he's frequently boasted about U.S. weapons sales brokered during the trip.
But the murder of Khashoggi, a U.S. resident who wrote for the Washington Post, set off a crisis in U.S.-Saudi relations last year. It sparked outrage internationally and in Congress, where even top Republican leaders such as Senator Lindsey Graham broke with the president and pushed to sanction the kingdom. Trump and senior advisers have said they want accountability for the crime, but that they don't want to risk an important relationship with the nation.
Barrack isn't alone in finding himself in hot water after venturing from the financial world into the unusually charged political realm of recent years.
In December, it emerged that Robert Mercer, the hedge fund tycoon whose backing of Trump earned him unwelcome criticism, and his family had sharply reduced the amount of money they spent last year to influence federal elections. The decision followed reports of external pressure on university endowments to pull money from Mercer's hedge fund group, Renaissance Technologies LLC.