Colombian Capital Pivots to Debt Markets for Big-Ticket Projects
(Bloomberg) -- Colombia's capital plans to become a regular in the debt markets, as it spends heavily on infrastructure and social projects in the wake of a six-month lockdown that crashed the economy and caused unemployment to more than double.
Bogota, a city of nearly 8 million tucked in the Andes, expects to start recurring sales of peso-denominated bonds in Colombia as soon as early 2021 to pay for the construction of mass transit lines, hospitals and schools, the capital's finance secretary Juan Mauricio Ramirez said in a video interview.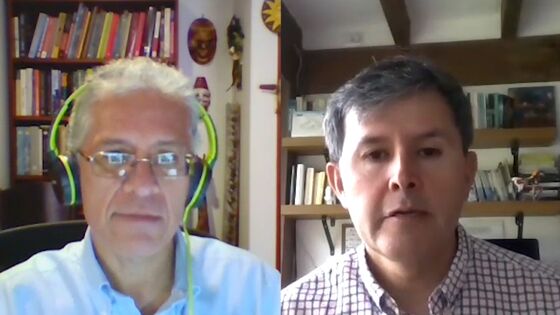 After lifting a lockdown aimed at limiting the spread of Covid-19, Bogota still faces an economic contraction of more than 6% this year, and unemployment skyrocketed to 22% from 10% in 2019. With approval from the city council to borrow as much as 10.8 trillion pesos ($2.9 billion), officials plan to use debt to jumpstart the economy and create jobs.
"The plan is for a countercyclical fiscal policy of higher spending, financed with debt, directed to two fundamental goals: reactivation of the economy and what we call social rescue," Ramirez said.
Officials have yet to decide how much they will issue in bonds, as they also weigh borrowing from banks and multilateral institutions such as the World Bank. Tapping international capital markets remains an option, though the preference is to start selling local-currency bonds every quarter or six months to create a yield curve, according to Jose Roberto Acosta, the city's director of public credit.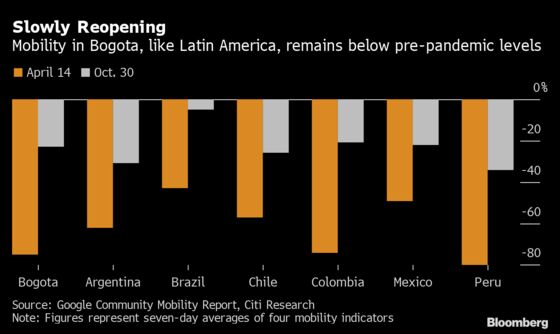 The strategy marks a shift for a city that had not previously relied on debt financing. Bogota sold roughly $400 million of notes last year to help pay for construction of the first line of a metro system, and tapped the local debt market again in May during the pandemic. Officials plan to start building more large-scale public works next year, as well as funding neighborhood projects and provide credits to small- and medium-size businesses.
Bogota's foreign-currency debt is rated at the lowest level of investment grade by Standard & Poor's and Fitch Ratings, and two levels above junk by Moody's Investors Service.
Ramirez estimates the plan will fuel economic growth of 4% next year and create as many as 200,000 jobs by 2022.
The city has been an epicenter of one of the world's worst outbreaks of the new coronavirus -- Colombia has seen more than 1.1 million cases, ninth-most globally -- leading officials to start locking down the economy in March. Although that was lifted in September, movement in the city is still well below normal levels, Ramirez said.
"The economic reactivation seems to have slowed down," he said. "So we are thinking about what more we can do to accelerate it again."