Colombia Economy Beats Estimates With Recovery in Full Swing
(Bloomberg) -- Colombia's economy rebounded faster than expected in the third quarter led by the retail sector and manufacturing, keeping the country on track for its fastest growth in decades this year. 
Gross domestic product expanded 5.7% from the previous three months, the national statistics agency said Tuesday. Output grew 13.2% from a year earlier, which was higher than the 12.5% median estimate of analysts surveyed by Bloomberg. 
The central bank accelerated the pace of interest rate increases last month, and signalled more monetary tightening to come, as the recovery gains strength and inflation soars beyond its target. Brazil, Mexico, Chile and Peru are also withdrawing stimulus as their economies recover from last year's slump. 
"Colombia joins Chile and a few other countries in the region that have seen their GDP rise above pre-pandemic levels, bolstered by fewer lockdowns and large expansionary fiscal and monetary stimulus," said Felipe Hernandez, a Latin America economist for Bloomberg Economics. "Numbers also point to GDP very close or already above potential."
The data suggest that Colombia should quickly move monetary policy back to a neutral stance, Hernandez said.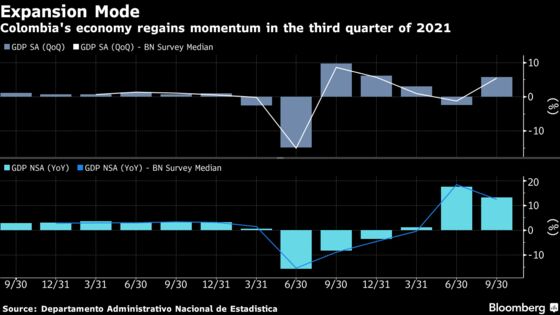 Third quarter growth was led by the retail sector, which saw growth of 33.8% from a year earlier, and by an 18.8% increase in manufacturing output. Construction was the weakest sector, with an expansion of 0.8%.  
The strong recovery may have an impact on next year's presidential and congressional elections. 
Senator Gustavo Petro, a former guerrilla feared by many investors, is leading in polls for president. His campaign has been boosted by the rise in unemployment and poverty during last year's economic collapse, so the strong rebound may take some of the wind out of his sails. 
"A recovery in a market economy reduces the chances of someone who says we need to change that model," said Sergio Olarte, an economist at Scotiabank Colpatria.  
In the first half of the year, Colombia's recovery was slowed by mass civil unrest and a third wave of the Covid-19 pandemic, but has now regained momentum. 
The central bank last month raised its forecast for growth this year to 9.8%, which would be the fastest pace since at least 1972. 
The bank raised its key interest rate by 0.75 percentage point to 2.5% over the two past meetings. Annual inflation accelerated to 4.6% last month, above the target of 3% plus or minus one percentage point.