Colfax Tumbles on $3.15 Billion Deal to Expand Into Orthopedics
(Bloomberg) -- Colfax Corp. dropped the most in nine months as the maker of valves and welding equipment expanded into the market for orthopedics devices by agreeing to buy DJO Global Inc. for $3.15 billion.
The purchase from private equity giant Blackstone Group LP -- Colfax's biggest deal ever, based on data compiled by Bloomberg -- is a major foray into medical equipment for the maker of industrial pumps and valves. DJO's products include casts and braces for fractures and other injuries, as well as far more complex surgical products, like replacement joints.
Further changes could be on the way, said Colfax Chief Executive Officer Matt Trerotola, including getting out of the air-and-gas business. Gas and fluid handling made up about 40 percent of the company's business last year.
Colfax's purchase comes amid tough competition in medical devices. The industry has been consolidating, as major players including Medtronic Plc and Abbott Laboratories made large acquisitions to gain scale. The deals have allowed them to offer their hospital and physician customers bigger ranges or products amid mounting pressure to wring costs out of health-care services.
Colfax dropped 9.6 percent to $25.29 at 10:12 a.m. Monday in New York, after tumbling 10 percent, the most intraday since February. The stock had lost 20 percent in the 12 months through Nov. 16, while the Russell 1000 Index gained 6.4 percent.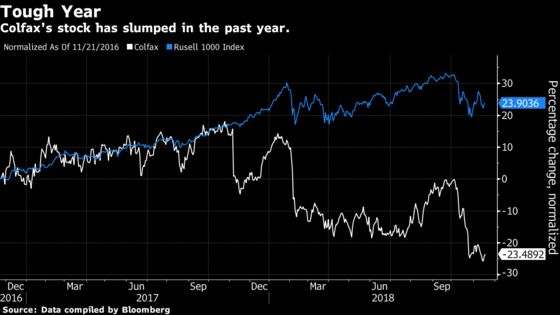 Colfax, based in Annapolis Junction, Maryland, said it plans to finance the purchase with about $100 million of cash from its balance sheet as well as debt, including a possible offering of new borrowing. The company had $1.14 billion in debt at the end of the third quarter, and its debt-to-earnings ratio is higher than that of its peers, according to data compiled by Bloomberg.
Standard & Poor's put Colfax's BB+ debt on credit watch with negative implications.
"We are committed to reducing leverage and restoring balance-sheet flexibility near-term and will explore strategic options for our Air and Gas Handling business," Trerotola said in a statement. The segment has suffered as China tightened environmental regulations on coal-fueled power plants.
Trerotola and several other Colfax executives have experience in medical technology from Danaher Corp., Joseph Giordano, an analyst at Cowen & Co., said in a note to investors.
The ability to bolt on to the welding business "and move more deeply into med tech should help to balance exposure and provide access to cycles across multiple markets," wrote Giordano, who has an outperform rating on Colfax's shares.
Colfax is also considering an offering of $500 million to $700 million of equity or equity-linked securities to finance the deal. J.P. Morgan and Credit Suisse have committed to provide bridge financing.
DJO, based in Vista, California, generated $1.2 billion in revenue and earnings before interest, taxes, amortization and depreciation of $269 million in the 12 months through September, Colfax said.
The transaction is expected to close in the first quarter of 2019.