Cold Takes One Last Swipe at New York, Northeast This Weekend
(Bloomberg) -- A surge of Arctic air that's sweeping through much of America's heartland is forecast to bring snow from New York's Catskills to Maine this weekend, and winter temperatures that will reach as far south as Florida.
The chill clamps down on the East Coast by Friday afternoon with the mercury in New York falling to 38 degrees Fahrenheit (3.3 Celsius) overnight. Freeze warnings, alerting farmers to protect crops, stretch from Iowa to New York through early Saturday.
Much of northern Maine will get 4 inches of snow, and while that wouldn't be much in January, "considering the time of year it is a pretty good snow," said Bob Oravec, a senior branch forecaster at the U.S. Weather Prediction Center in College Park, Maryland.
But Oravec added, "it is pretty much going to be the last gasp for snow."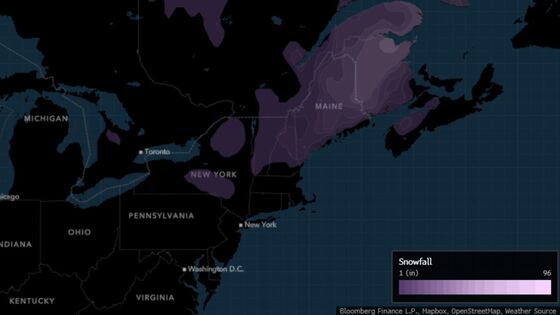 The cold will do its worst from Minnesota across Michigan into northern Indiana and Ohio, where it could damage emerging corn and soybeans and any wheat that is jointing, said Don Keeney, a senior agricultural meteorologist at Maxar in Gaithersburg, Maryland.
"Tomorrow morning will be the coldest morning," Keeney said. "I don't think it is going to be a massive event but several fields in that area will see some impact."
By next week the sun will begin to make itself felt on national weather patterns, and the cool trend will shift, according to Oravec.

"Definitely by Thursday or Friday it starts trying to warm up," he said. "We might actually be changing the weather pattern, which will be nice because it is mid-May. You can't delay the season forever."