Coal Piles at 24-Year Low at U.S. Utilities on Demand Surge
(Bloomberg) -- Coal stockpiles at U.S. power plants plunged to the lowest in at least 24 years as electricity generators burn the fuel faster than miners can dig it out of the ground.  
Inventories fell to 84.3 million tons in August, according to government data released Tuesday. That's the lowest in records going back to 1997, when Bill Clinton was beginning his second term as U.S. president. 
As the global economy recovers from the pandemic, demand for electricity -- and the fuels used to produce it -- is surging around the world. That's pushed natural gas prices to all-time highs in some regions and the knock-on effect has been that utilities are burning more coal as a less-costly alternative.
Overall U.S. inventories have been on a steady decline for several years as hulking, aging plants were replaced by natural gas-fired generators and renewables. But this year's drawdown in stockpiles shows utilities are burning through reserves at the worst possible time given winter's imminent arrival.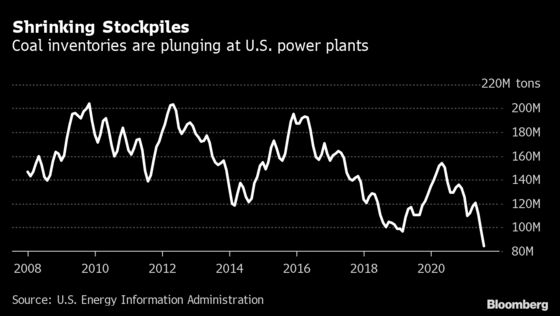 "The ability for the producers to respond is not what the utilities thought it was," Paul Lang, chief executive officer at Arch Resources Inc., said during a conference call Tuesday. "It just doesn't exist anymore."
In the U.S., power producers are on track to burn 19% more coal this year, but miners have been curbing production capacity for years and that will limit 2021 output growth to less than 10%. That's forcing generators to burn through reserves of the dirtiest fossil fuel, and heightening concerns about winter supplies. 
"Coal stocks for our customers are at critically low levels," Joe Craft, chief executive officer for Oklahoma-based miner Alliance Resource Partners LP, said during a conference call Monday. 
The inventory decline came on very quickly as the global energy crisis took root. Stockpile trends didn't look unusual in the first half of the year, but then fell 13% in July from the prior month and another 13% in August. 
Prices for coal from Central Appalachia have surged 39% since the start of the year to $75.50 a ton, according to data from S&P Global Market Intelligence.
Total inventories could shrink to 50 million tons by the end of the year, said Matt Preston, director of North American coal markets research for Wood Mackenzie Ltd.
"Stockpiles are coming down very rapidly," he said. "If we have a cold winter, and there has been lots of talk that there could be a cold winter, we could see some issues." 
That's unlikely to change anytime soon. Gas producers aren't ramping up production, so prices for the fuel that also runs furnaces in many homes are likely to stay high into next year. 
As a result, coal consumption also will remain elevated around the world, according to Edward Gardner, an analyst with Capital Economics in London. 
"The high level of demand over the next year will make it harder to build stockpiles back up," he said. 
(Disclaimer: Michael Bloomberg, the founder and majority owner of Bloomberg LP, the parent company of Bloomberg News, has committed $500 million to launch Beyond Carbon, a campaign aimed at closing the remaining coal-powered plants in the U.S. by 2030 and slowing the construction of new gas plants.)