China Coal Surges to End Longest Losing Streak Since 2015
(Bloomberg) -- Coal futures in China jumped on Wednesday to end a 10-day losing streak that eroded half their value.
Prices surged ahead of colder-than-normal temperatures expected for much of China through mid-November, which will increase demand for power and heating. Traders are weighing a tight supply situation against government action to limit future price gains.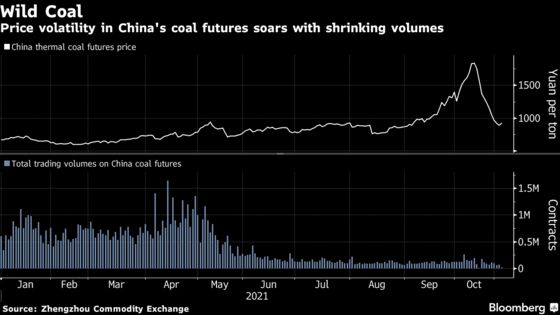 To boost coal output, authorities have revived old mines, hurried through permits for expansions and loosened some safety regulations. They've also stepped in on prices to ensure electricity generators are incentivized to fully use power plant capacity.  
Output in the key Ordos mining region grew by 15% in October from the previous month to 2.23 million tons a day, according to the China Coal Transportation and Distribution Association. Coal output has exceeded power plant consumption for 25 straight days, and inventories have risen by 36% since the end of September, the association said in a WeChat post. 
The most-active thermal coal contract on the Zhengzhou Commodity Exchange rose 9.7% to close at 978 yuan ($152.84) a ton. It was the first time futures have advanced since hitting a record on Oct. 19. Since then, the contract lost more than 50% in a 10-session losing streak, the longest since March 2015.