Coal Demand Bounced Back in 2017 After Two Years of Decline: IEA
(Bloomberg) -- Demand for coal rose for the first time in two years in 2017 with China and India burning more than anyone else, a blow for environmental groups hoping to limit use of the dirtiest fossil fuel.
The International Energy Agency's annual World Energy Outlook published on Tuesday indicates coal will remain a key fuel to provide heat and light through 2040.
Global coal demand will begin to flatten by 2040, according to the IEA's central scenario which tracks energy use on the assumption that governments will implement current and announced policies. In its most environmentally friendly outlook, the Paris-based institution says demand will ease to 2.28 billion tons in 2040 from 5.36 billion tons last year.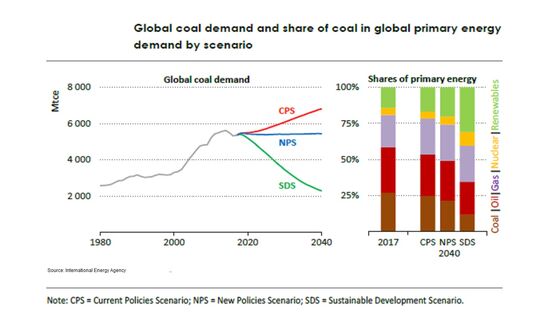 Coal's share of global energy demand would have to fall to 12 percent by 2040 to make a substantial dent in global warming, down from about 27 percent currently and the 22 percent under the IEA's central forecast.
Asia is driving demand, especially India and the nations in the southeast of the continent. That's helping make up for industrial nations such as Canada, Germany and the U.K. that are working to phase out the fuel.
Investment in new coal-fired power plants was at its lowest in a decade in 2017. Large investors and insurers are moving away from coal in growing numbers as public pressure to meet global climate targets gets ever stronger. Assicurazioni Generali SpA, Allianz SE and AXA SA and Standard Chartered Plc are among those to have made public their ambitions to exit coal.
"The boom years for coal-fired power investment, driven by an extraordinary expansion of capacity in China in the 2000s, are over," the IEA says in the report. "Capacity additions, although still larger than retirements, have slowed dramatically."
"We don't believe global coal consumption will ever regain the 2014 peak, and given relative pricing trends, we can expect to see more coal forecast downgrades," said Tim Buckley, director of energy finance studies a the research group, IEEFA Australasia.