CLOs and Loans With Floating Rates Get Hotter as Fed Hikes Near
(Bloomberg) -- With a Federal Reserve that is looking increasingly likely to hike rates sooner, investors are eager to buy riskier floating-rate debt. 
Prices on leveraged loans reached an average of 98.87 on Monday, the highest since July 2014, and are heading to levels not seen since 2007. Investors have poured money into leveraged loan funds for four straight weeks, including $840 million in the week ended Jan. 5.
Part of the demand for floating-rate loans is coming from money managers that bundle them into bonds known as collateralized loan obligations. Even investors that historically focused on conventional corporate bonds are giving CLOs a closer look now, said Goldman Sachs Group Inc.'s chief credit strategist Lotfi Karoui.
"If you're looking for value that's where you need to go," Karoui said in an interview. 
Morgan Stanley said on Monday that buying the riskiest parts of CLOs, known as CLO equity, remains one of the firm's favorite trades for securitized products this year. Those securities returned somewhere around 25% in 2021.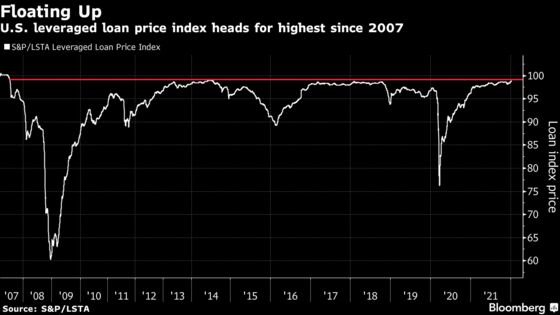 Investors are looking for floating-rate instruments as protection against rising yields as the Fed gets ready to tighten the money supply. The minutes from the central bank's December meeting, released last week, signaled that policy setters are looking more closely at accelerating the pace of rate hikes, and last week's jobs report for December was relatively strong. 
Goldman Sachs now says that the Fed will probably hike interest rates four times this year, starting in March. Many economists had previously been expecting three hikes this year, based on the central bank's own projections.
"A more hawkish stance from the Fed leads us to strengthen our preference for the CLO asset class," Morgan Stanley analysts James Egan and Charlie Wu said in a report this week. 
Money managers aren't just buying floating-rate debt-- they're often looking for such instruments with higher yields. Taking that kind of credit risk might make sense in an economy that is showing signs of recovery, with unemployment at just 3.9% in December. Buying CLO portions rated BB may be the best bet among the different portions, Bank of America Corp. strategists led by Chris Flanagan wrote in a Jan. 7 research note. 
CLO BBs and equity are trading at yields north of 8% and in the mid-high teens, respectively, according to Morgan Stanley data. That's well above the yields for investment-grade fixed-rate corporates, which average 2.58% as of Monday, the highest since May 2020, according to Bloomberg index data.
U.S. CLO equity total returns may be modestly lower in 2022 than last year, at 17%-25%, but still remain very attractive due to historically high distributions and favorable credit conditions, according to Nomura Holdings Inc. strategists.
Elsewhere in credit markets:
Nine companies are selling bonds in the U.S. investment-grade market on Tuesday, including New York Life. 
In leveraged finance, health information technology company Athenahealth is readying a $9.25 billion high-yield debt sale to support its leveraged buyout by a group led by Hellman & Friedman and Bain Capital, according to people with knowledge of the matter
The judge overseeing Puerto Rico's bankruptcy directed the island's financial oversight board to revise its debt-restructuring deal by Friday and plans to confirm that workout plan soon after
For deal updates, click here for the New Issue Monitor
For more, click here for the Credit Daybook Americas
Lombard Odier Investment Managers has set up a fund focused solely on scooping up the market-beating returns on bonds of companies that have slipped down the ratings ladder into junk
Vonovia SE is kicking off the year for the Schuldschein market with a 500 million-euro deal that's the largest since mid-2020 based on its size at launch
Global Credit Strategy Outlook 2022 – Crisis Or Not? Please join Mahesh Bhimalingam and Noel Hebert, European and U.S. credit strategists from Bloomberg Intelligence on January 13 at 2 p.m. GMT, as they attempt to answer "where do credit markets currently stand?" and "where do we see them going?"
Deal flow from Asia Pacific borrowers in the U.S. currency remained firm on Tuesday with Japan's Mitsubishi UFJ Financial Group Inc. and the Agricultural Bank of China Ltd. among at least five issuers offering such debt. 
In the yen market, Berkshire Hathaway kicked off a bond offering, which would be its fourth in as many years if completed
Chinese bond defaults are seen rising in 2022, according to a Bloomberg survey, though most expect missed payments won't bring broader pain to the country's economy
Indonesian miners' formerly high-flying dollar bonds face risks due to uncertainty about whether the government is ready to end its ban on coal exports for one of the world's biggest shippers of the fuel source