PizzaExpress Creditors Push for Control Ahead of Debt Deadline
(Bloomberg) -- PizzaExpress stakeholders are under pressure to reach a debt deal this week before a deadline to pay more than 20 million pounds ($26 million) in debt interest.
A group of the company's bondholders, including U.S. firms Cyrus Capital Partners LP, HIG Bayside Capital and Bain Capital Credit, are seeking to take control of PizzaExpress's U.K. and Irish business in exchange for providing fresh funding and cutting the debt load.
Under their plan, current owner Chinese private equity firm Hony Capital would be left with the overseas restaurants including those in China.
The creditors want to take ownership before the interest payments come due to avoid two possible detrimental outcomes, according to people familiar with the matter.
In the first scenario, if the company defaults on the payment after a grace period, management would be ousted and administrators appointed, according to the people, who asked not to be identified as talks are private.
But in a second scenario, if PizzaExpress pays the interest about 9 million pounds would go to lower-ranking creditors whose bonds are likely to be wiped out in negotiations, they said.
Spokespeople for PizzaExpress and Hony declined to comment on the talks. Representatives for HIG Bayside and Bain declined to comment while Cyrus didn't immediately respond to an email seeking comment.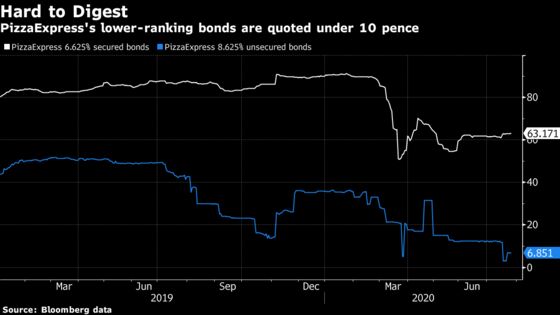 PizzaExpress was already struggling under a roughly 1.1 billion-pound debt pile before the coronavirus pandemic forced restaurants to close their doors in March. The company didn't make quarterly rent payments at the end of March and has been discussing its options with landlords. It has also been seeking to delay reporting financial results to investors since May.
S&P Global Ratings said in May that a restructuring in the near term is probable and the odds of a straight refinancing are "negligible". PizzaExpress's senior-ranking bonds are quoted at about 64 pence on the pound while the lower-ranking notes are quoted at just 7 pence, indicating they are likely to be wiped out.
While the precise details are still under discussion, some of the bondholders may be willing to provide at least 50 million pounds to PizzaExpress in fresh funding, according to the people. The size of the senior-ranking bond may be reduced down to about 200 million pounds from 465 million pounds, they said.
The company will also seek to close some U.K. and Irish restaurants as part of the debt restructuring, they added.