CLO Spreads Set to End 2018 on a Weak Note Amid Record Sales
(Bloomberg) -- Spreads on U.S. collateralized loan obligations have been steadily widening and are poised to end the year notably weaker than where they started.
The average spread for AAA rated standard new broadly syndicated loan CLOs widened to 122 basis points over Libor in November and has remained in that range this month, according to data compiled by Bloomberg News. This compares with levels of about 105 basis points in January and a low of under 100 basis points achieved in March.
Spreads have widened due to this year's record high supply of $127 billion and rising dollar funding costs for Asian investors, but the latest bout of broader market volatility is only making matters worse.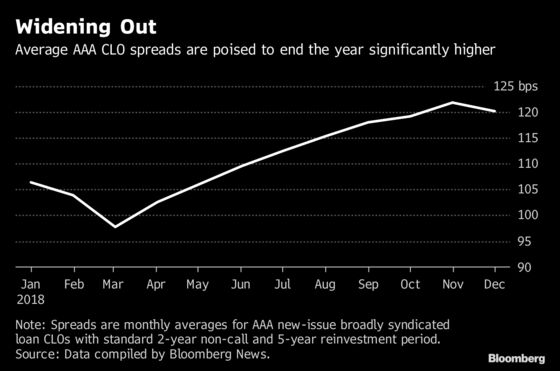 The widening is even more pronounced in lower-rated tranches. A slice of a CLO refinancing for CIFC Asset Management LLC that's rated Ba3 by Moody's Investors Service may yield at least 700 basis points over Libor, according to a person familiar with the matter. That's an increase of about 125 basis points from the initial price thoughts set by the arranger.
Higher liquidity risk and a flattening yield curve are to blame for the CLO market's sudden vulnerability to broader market forces, Bank of America Corp. analysts say. Until year end, "we think CLO spreads will remain hostage to these risk factors and are unlikely to see a major reversal," analysts led by Chris Flanagan wrote in a note late last week.
The prospect for spreads tightening soon aren't great. "It is also more likely than not that a retracement will not happen until other corporate and securitized product sectors show clear signs of spread stabilization or tightening in the new year," they added.