CLO Market's Japanese Buyers Face More Regulatory Scrutiny
(Bloomberg) -- One of the world's biggest buyers of collateralized loan obligations is attracting increased scrutiny from Japan's financial regulator, which is concerned about the rapid buildup of CLO holdings on bank balance sheets.
Norinchukin Bank, the agricultural lender that boosted holdings of top-rated CLO tranches by about $10 billion last quarter, spoke with Japan's Financial Services Agency this year to answer questions about its portfolio, FSA officials said in an interview. Japan Post Bank Co. and Mitsubishi UFJ Financial Group Inc. were also questioned by the FSA about how they manage risks related to the complex debt products, the officials said.
Investors in much of the world have cooled on CLOs after a record year of issuance in 2018, but market participants say Japanese banks have remained big buyers as rock-bottom interest rates at home have spurred them to look for higher yields overseas. Any sign that Japanese demand is waning could send shudders through the more than $1 trillion leveraged-loan market, which is already grappling with concerns over falling lending standards and an unfavorable shift in interest-rate expectations.
Japanese regulators join a long list of observers, including Bank of England Governor Mark Carney and former Fed Chair Janet Yellen, who have warned about potential dangers stemming from leveraged loans. CLO defaults have been rare over the past two decades, but some worry that the products could be vulnerable during the next economic downtown.
The FSA is concerned that the quality of leveraged loans underlying CLOs may be falling. Japan's banking system could be affected if Norinchukin suffers damage to its portfolio, the officials said, asking not to be identified in accordance with the agency's policy. A Norinchukin spokesman declined to comment.
The Japanese agency may contact banks more often if they keep adding to their holdings, one of the officials said. The FSA uses such communication as a tool when it's concerned about potential threats to financial stability, such as when rising U.S. interest rates posed risks to Japanese banks' Treasury holdings two years ago.
FSA officials were quick to note that Norinchukin has given satisfactory results on its own CLO stress test. The bank has done due diligence on CLO arrangers and analyzed the quality of underlying loans, in addition to limiting its exposure to the highest-rated tranches, one of the officials said.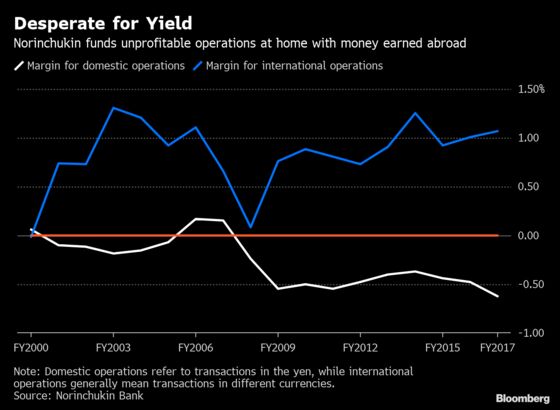 The regulator's added scrutiny coincides with its preparation of rules that may impose onerous capital requirements on financial firms that buy CLOs and other securitized products from arrangers that don't retain a stake in the securities. The FSA is considering exceptions to the so-called risk-retention rule for buyers that can show they purchased CLOs appropriately, Bloomberg reported in late January.
Norinchukin's holdings of collateralized debt obligations -- a grouping that includes CLOs -- jumped about 80 percent in the nine months through December to 6.8 trillion yen ($61 billion), according to company figures. While the bank didn't provide a more detailed breakdown, analysts say CLOs account for effectively all of the holdings. Japan Post Bank's CLO portfolio more than doubled to 1 trillion yen. MUFG had about 2.5 trillion yen of CLOs in December, unchanged from March 2016, according to a company spokesman.
Norinchukin and Japan Post Bank have been more aggressive CLO buyers than the country's biggest commercial banks because they have a more limited capacity to lend, said Tetsuya Yamamoto, a senior credit analyst at Moody's Investors Service in Tokyo. Norinchukin has bought the least-risky portions of six of the eight new European CLOs issued this year, according to people with knowledge of the matter.
In a response to questions from Bloomberg News, an MUFG spokesman said the bank carefully assesses the risks of its current and potential CLO holdings, adding that top-rated products remain attractive given Japan's low interest-rate environment. Triple-A rated CLOs are a good investment option given shareholders' concerns about risk, said Toshiharu Oono, an executive officer in the financial accounting department at Japan Post Bank.
The lender has a history of getting burned by investments in complex credit products. After booking losses on mortgage-backed securities during the global financial crisis a decade ago, Norinchukin turned to its cooperative members -- mostly farmers and fisherman -- for a 1.9 trillion yen bailout.
While Yamamoto at Moody's said the bank has since bolstered its risk management systems and is unlikely to suffer any significant losses on CLOs, others aren't so sure.
"The market value of CLOs could fall if changes in economic conditions or market sentiment make market participants more mindful of the risks involved in the underlying assets," said Hironari Nozaki, a professor at Toyo University and a former Citigroup Inc. bank analyst. "I wouldn't say CLOs are dangerous per se, but I think the time has come for them to control their exposure."