Clean Power So Cheap a Staunch Defender of U.S. Coal Went Green
(Bloomberg) -- Thomas Fanning, the leader of one of the nation's biggest utilities, once railed against "the war on coal." Now he's on a very different bandwagon, part of the low-to-no-carbon crew.
It's a shift that bows to a new reality as natural gas and solar prices fall and climate change fears rise. "One of the riskiest things a company can do in this kind of environment is not to change," said Fanning, the chief executive officer of Southern Co., the Atlanta-based utility that generates enough electricity to power a country the size of Australia.
The economic winds are so strong that even many of those who stridently resisted the transition to cleaner energy are converts. Coal fueled more than half of Southern's power in 2011, when Fanning argued in Washington that limiting its use would "negatively impact the nation's economic well being." Today just 22% of Southern's power comes from coal and the company is a top solar supplier.
That doesn't put Southern at the top of charts, though. Its use of coal didn't drop below the industry average until last year, and the 12% of its power that came from renewables in 2019 was below the 17% industry average.
Fanning, 62, said in an interview that Southern is seeking to find the right balance of options to move forward. He remains opposed to regulating coal and doesn't approve of clean energy mandates. But he described himself as always having been "one of the leading spokesmen in the industry for 'all of the above,' resilience -- the need for innovation, and for thinking about how to create a future," adding he'd never characterize himself or Southern as being "coal-centric."
Southern's 2016 acquisition of PowerSecure made it the nation's largest developer of microgrids in a move into distributed generation. But the company is also heavily involved in researching carbon-capture technologies for natural gas, he said, as well as hydrogen for fuel cells.
"We're the first company I think that came out and said 'low-to-no' carbon by 2050," he said.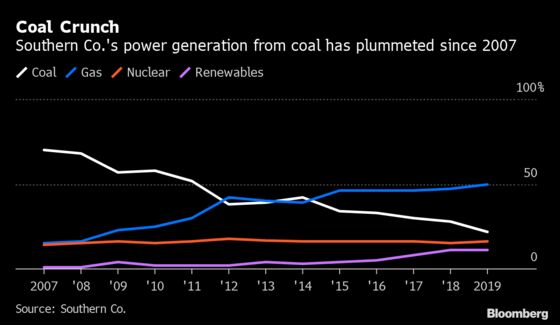 Critics say Southern still needs to pick up the pace. Karl Rabago of the Pace Energy and Climate Center says Southern has taken advantage of its monopoly powers and friendly regulatory environment to continue squeezing profits from coal and delaying a final transition into renewables. Meanwhile, its Alabama franchise is accused by environmental groups of overcharging customers with rooftop solar panels, deliberately discouraging new installations and avoiding competition.
"Resisting market forces can be profitable if you enjoy a monopoly," Rabago said. "The fundamental question for Southern is how long can its operating companies forestall what's some think is inevitable or how successfully can they absorb those inevitabilities and transmogrify them into a Southern's version."
At the same time, Southern's bets have at times produced pain for shareholders and ratepayers.
Over the past decade, the company spent billions in a first-of-its-kind "clean coal" power plant in Mississippi that was abandoned after construction delays and cost overruns. The carbon-capturing technology behind the so-called Kemper project -- which was flagged by Trump as a way to help save mining jobs -- worked just fine but became uneconomic as natural gas prices plunged, Fanning said.
The company is also spending over $8 billion on a last-remaining U.S. nuclear project critics say will saddle customers in Georgia with expensive energy bills. The so-called Vogtle units 3 and 4, the first new reactors ordered in the U.S. in decades, have doubled in price and are currently running more than five years behind schedule. The spending spree forced Southern to sell assets including its Florida utility.
Sill, over the past year, Southern's shares have jumped 45%, outpacing the 22% gain for the industry benchmark, as fears that the company wouldn't be able to complete the Vogtle project faded amid progress reports.
Sophie Karp of KeyBanc Capital Markets Inc. in January raised its recommendation on the stock, saying it's still cheap relative to main rivals. Once America's largest utility company, Southern has now a market value equivalent to less than 60% of that for renewables powerhouse NextEra Energy Inc.
"We're not only reacting to a future, we're trying to invent the future," Fanning said.