Clean Power Sees First Win Over Fossil Fuels in Emerging Markets
(Bloomberg) -- Developing countries have added more clean power capacity than fossil fuel generation for the first time ever, charging ahead of wealthier nations in the global green energy push, according to Bloomberg NEF.
Wind and solar generation accounted for just over half of the 186 gigawatts of new power capacity in developing nations last year, according to BNEF's annual Climatescope survey released Tuesday. Not only that, they've added more clean energy generation than developed economies, increasing zero-carbon capacity by 114 gigawatts compared with about 63 gigawatts in richer countries.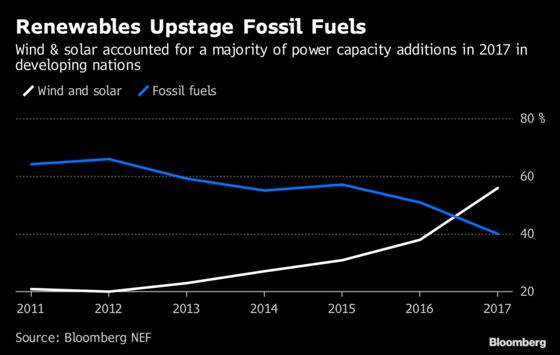 The findings show a turnaround from a decade ago when the world's wealthiest nations dominated renewable investment and deployment activities. Many developing countries have an abundance of natural resources and lower equipment costs, allowing new renewable projects to become cheaper than fossil plants, according to the report.
"Just a few years ago, some argued that less developed nations could not, or even should not, expand power generation with zero-carbon sources because these were too expensive," Dario Traum, BNEF Climatescope project manager said in a statement. "Today, these countries are leading the charge when it comes to deployment, investment, policy innovation and cost reductions."
Emerging markets added the least new coal-fired power generating capacity last year since at least 2006. New coal plants in these countries slumped 38 percent from a year earlier to 48 gigawatts in 2017, which was about half of the peak in 2015, according to BNEF.
For the Climatescope survey, BNEF conducts country-by-country assessments of clean-energy market conditions and scores each nation, with more points awarded for investments and policy reforms that support clean energy and countries' openness to international investors over the availability of local manufacturing. The survey included 103 nations, up from 71 in the previous report.
Other findings include:
New clean energy additions rose 20 percent in developing nations from 2016, while slipping in richer countries by 0.4 percent.
New financing for clean-energy technologies in emerging markets remained roughly flat at $143 billion since dropping from a record of $178 billion in 2015, even as prices of the technologies continued to fall.
Actual generation from coal-fired plants gained 4 percent in developing countries to 6.4 terawatt-hours.

193 gigawatts of coal are under construction in developing economies, with 86 percent of this capacity planned in China, India, Indonesia and South Africa, the report said, citing Coalswarm data

Chile replaced China as the top scorer of the survey because of its strong government policies, a track record of clean energy investment and a commitment to decarbonization despite grid constraints

India is a close second, up from fifth the previous year, on its ambitious clean energy policies and competitive renewable auctions
China fell to seventh as curtailment issues and subsidy cuts to solar generators lowered its score, though it is the largest market for clean energy