CK to Buy Veon Out of Italy Telecom Venture for $2.9 Billion
(Bloomberg) -- CK Hutchison Holdings Ltd. is taking full control of its Italian mobile phone joint venture for 2.45 billion euros ($2.9 billion), in Chairman Victor Li's third major deal in the two months since he took over as head of the Hong Kong conglomerate.
CK will buy the remaining 50 percent stake of Wind Tre SpA from Veon Ltd., the companies said on Tuesday in a statement. The cash transaction requires regulatory approval and is expected to close in the third quarter or early in the fourth, Veon said.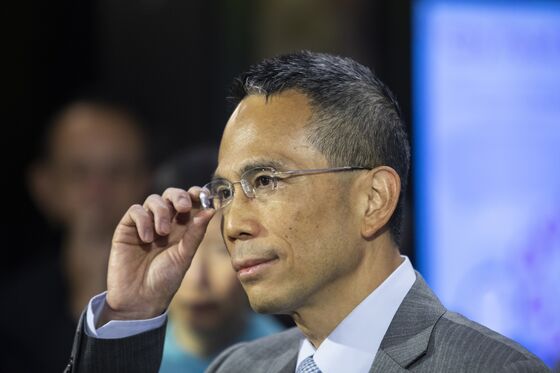 Italy generated the most profit among CK's telecom businesses last year and full ownership offers a cushion against the uncertainty faced by its U.K. businesses as Britain prepares to leave the European Union. Since taking over CK Hutchison in May, Li has launched what could be the company's biggest overseas acquisition and purchased UBS Group AG's London headquarters, displaying the same penchant for deal-making as his father, Li Ka-Shing.
The younger Li is raising his bets on Italy as Wind Tre faces mounting headwinds. The company's mobile subscriber base is shrinking and a new low-price competitor -- France's Iliad SA -- just arrived on the scene, threatening to undercut the three incumbents, Wind Tre, Telecom Italia SpA and Vodafone Group Plc. A new populist government is further clouding Italy's business outlook by challenging the business-friendly reforms of its predecessors.
Click here for more on Iliad's Italy plans
Wind Tre has been the dominant mobile phone service in Italy since CK and Veon combined operations in 2016 to ease the burden of heavy investments and give them more pricing power in a stagnating market. Wind Tre now needs to invest to improve network quality while shouldering the cost of 5G spending and spectrum auctions, Aidan Cheslin, a Bloomberg Intelligence senior credit analyst, wrote in a research note.
"The reassuring thing is that Hutchison has the industrial culture and financial strength to wait and wait for better times," said Carlo Alberto Carnevale Maffe, associate professor of business strategy at Bocconi University in Milan. "The company will sit on the riverbank."
The deal values the Italian business at an enterprise value of about 6.7 times its earnings before interest, tax, depreciation and amortization in the past year, CK's group finance director Frank Sixt said in a phone interview. That's in line with the industry average, according to data compiled by Bloomberg.
The acquisition should help provide a "significant increase" in CK's earnings next year, while cost savings and synergies from the 2016 mobile merger would continue until 2020, said Sixt. He said he did not expect major obstacles to regulatory approval and was sanguine about the prospect of a new competitor in Italy.
"I'm not particularly concerned about Iliad's entrance into the Italian market because this event was in our plan," Sixt said.
CK shares fell 1.6 percent to close at HK$81.90, the lowest in almost two years, in Hong Kong amid a broader rout in Asian stocks. Veon shares rose as much as 2.8 percent in Amsterdam to the highest intraday price in more than four months.
The deal means Veon will exit Western Europe, helping it cut debt and increase its exposure to faster-growing south Asian markets.
Veon plans to use the $1.1 billion of proceeds to help pay for Global Telecom Holding SAE's assets in Pakistan and Bangladesh. Veon, formerly known as Vimpelcom, offered on Tuesday to buy GTH's operations such as Pakistan's Jazz and Bangladesh's Banglalink for $2.55 billion in cash, deferred considerations and assumed debt.
Russian billionaire Mikhail Fridman and his partners, Veon's dominant shareholders, had tried to buy out minority shareholders in Cairo-based GTH to get full exposure to its profits from those high-growth countries. They withdrew the offer in April after failing to secure clearance from Egypt's market regulator.
Wind Tre's 1.75 billion euros of bonds maturing in January 2025 rose as much as 16 cents on the euro to 97 cents, their biggest advance since they were issued last October, according to data compiled by Bloomberg.